Dear Parents, Guardians and Friends,
After the announcement of the name of the new House Broderers last half term, The Holt Association launched a competition to design the new House shield. We have colourful pennants already for our existing Houses that adorn the back wall in the hall, and these were also designed by our students some years ago. It seemed fitting therefore that students were given the opportunity to design the new one as well.
Mrs Williams, Head of Technology managed the project and produced the desired template as well as the brief. The pennant had to reflect the new House colour- which is grey, and it had to be based around the traditional London women's guild of Broderers.
We had many entries to this competition, which were judged last Wednesday. The judging panel was the senior leadership team, Mrs Carroll, chair of the Holt Association, Mrs Hayes, new head of Broderers, and Jessica Pollard and Olivia Corbett, our Year 12 House prefects for Broderers. We all had to make a very tough decision to select the winning entry which was designed by Tanya Vaidhyanathan, Eleanor Ansell, Celine Duesbury, and Mariya Rauf in Year 8. Below is their design.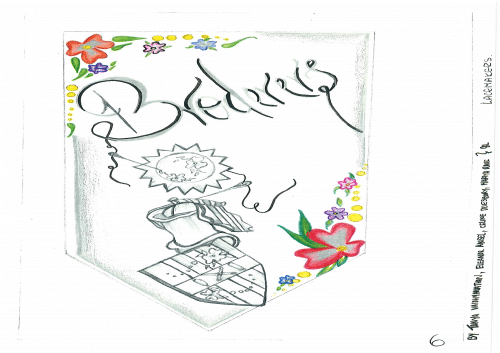 The next step is for the winning design to be sent to the printers and converted into a professional pennant. This will hopefully be revealed at the final whole school assembly in July and will go up over the holidays ready for our new Year 7 and our new House members. Exciting times.
All the entrants received House points and the top 3 entries will each receive an Amazon voucher donated by The Holt Association. Well done girls!
In other departments, PE were once again celebrating the success of our students. Last Wednesday, 24 students from Years 7-10 headed to Basingstoke for the regional final of the Track and Field Cup. It was a great achievement to have both the Junior and Inter Girls teams in the regional final and the whole group along with staff left the school very excited for a great day ahead.
The girls showed that they meant business and were determined to do their best and won the first three races on the track with Emilie Lalahy, Chloe Eames and Lucy Rothwell all comfortably winning their respective hurdles races! In the field events, Lucy James, Abigail Miller, Samaia Dhir and Millie Whitehouse threw near national standard in their respective throwing events. Chloe Eames jumped for glory too with a Personal Best of 4.82m in the long jump.
The day continued to get better and better after this great start and it was a fabulous team effort ending on a high with the Junior and Inter girls winning their relay races in style. The final results saw the Junior Girls finish in a strong 6th place with 302 points and huge congratulations should be given to the Inter Girls who won the regional final with 365 points! This really is an incredible achievement and I am reliably told by the PE department that this is The Holt's best ever performance at a competition of this level. We will have to wait and see whether it is enough points to make it through to our first ever National Final! I would like to say a big well done to all the girls who took part and a big thank you to the PE department, in particular Miss Godfrey and Mrs Bolton for all their hard work too.
| | |
| --- | --- |
| | |
As well as the event last week, on Saturday several Holt girls from Year 7-13 were selected to represent Wokingham at the Berkshire Schools Athletics Championships. The standard of athletics in Berkshire is very high and so the competition is always an excellent event. Well done to everyone who took part and represented The Holt and Wokingham. Special mention to Tom Nike (3000m), Phoebe Fenwick (400m), Abigail Miller (Javelin) and Chloe Eames (300m Hurdles) who were all crowned Berkshire Champions but an extra special mention to Abigail Miller who threw a huge Personal Best of 39.73m on her very last throw, to be crowned Berkshire Champion and set a new Championship record! Well done indeed!
As a result of their performances on the day and the standards achieved, Abigail Miller, Chloe Eames, Phoebe Fenwick and Lucy James (Discus) have also been selected to represent Berkshire at the very prestigious English Schools Championships in July in Birmingham. We wish them the very best of luck!
The geography department also enjoyed a very busy and successful weekend as they took their Year 12 A' Level students off to Studland Bay to complete their compulsory field work. The students had been warned that a lot of hard work lay ahead and indeed it did! The first two days consisted of exploring multiple sites and considering what data collection techniques could be conducted at each site. Choices of investigation, included sand dune transects at Studland, coastal management surveys at Swanage and assessments of the success of the redevelopment of Boscombe. The students all worked very hard until 9pm each evening so naturally the coach trip home was very quiet. Although exhausted, a very enjoyable time was had by all, and most importantly the Year 12s felt very well prepared to write up their Non Examined Investigations. Thanks to Mr Marrison, Mrs Kemp and Mrs Smith for organising and accompanying this trip. Below are some pictures of them hard at work.
| | |
| --- | --- |
| | |
Elsewhere around the school, the computing department are keen to report on the Microbit coding work that the Year 9 students have been doing in lessons.
They managed to create simple games using the Microbits and play amongst them in the lesson.
Finally, the art department celebrated some great news as well, as they heard that Naomi Hodge in Year 13 has been chosen by the Royal Academy as one of its A Level winners 2018. This is a highly prestigious competition and is 'The One' for art teachers to enter and win. The art department, 6th form team and Mrs Kennedy and I are so incredibly proud of Naomi. Well done.
Below is a picture of her work. It is quite incredible that this has actually been drawn using graphite pencils. Brilliantly skilful!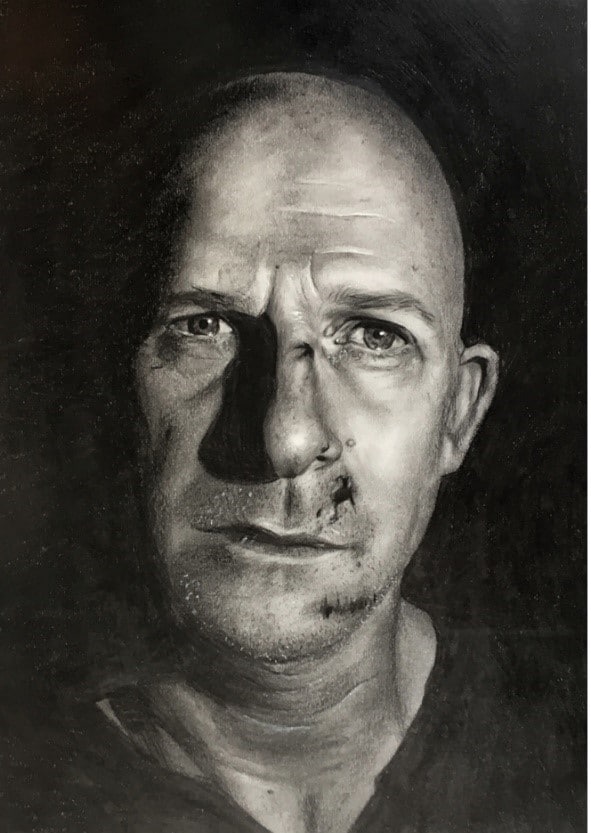 Looking forward to next week now; we will be welcoming some more visiting teachers from China to our school. Mrs Wood has had strong links with the Reading University teacher exchange programme now for many years and at least twice per year, we welcome groups of 4 or so Chinese teachers to The Holt. They spend time observing our lessons as well as teaching our students more about their culture and traditions. The teachers that come always have very different skills and so the activities they offer vary each time; anything from Tai chi, to calligraphy, to the ever popular dumpling preparation and cooking session. The students really enjoy getting to know them and we always enjoy hosting our visitors.
On Friday, we will be waving the Year 7 French students off as they depart for the annual trip to Le Pré- Catalan. More about their travels next week!
Also on Friday it is Eid, so we would like to wish our Muslim students, parents and staff a happy Eid, or "Eid Mubarak". The students have managed their fasting incredibly well, we have been so impressed and would like to thank our Muslim parents for the advice they have given us during this period of fasting.
On Saturday, it is the national final of the Magistrates mock trials in Birmingham. We all wish our team the very best. They have worked very hard rehearsing their cases! We will bring you news of how we got on next week, but follow us on Twitter on Saturday for updates if you cannot wait until Wednesday.
Have a good week.
Mrs Pearce
Co-Headteacher