Dear Parents, Guardians and Friends
There has been a lot going on again this week!
We welcomed hundreds of parents and their Year 6 daughters to our Open Evening and we hope they all enjoyed the displays and activities set up in department areas as well as seeing how passionate our teachers and students are about learning and being part of The Holt community.  Year 11 and the sixth formers made great tour guides and parents commented on how informative they were and their lovely personalities!  It always feels good to receive such positive feedback.
Year 11 watched their peers in Lacemakers and Goldsmiths debate in the house-debating final on Friday afternoon.  The two teams were debating 'This house believes that childhood vaccines should be compulsory' – the girls had researched well, spoke clearly and were very passionate in their delivery.  They backed up their statements with evidence and statistics and were excited for questions from the judges and audience.  The judges announced the House Debating winners as Lacemakers!!! Well done.  Thank you to Mrs Davis and our sixth form prefects Imman, Darcy and Emily for or organising this house event – it was the first time it had run and Year 11 really embraced it.  They made an excellent audience in the final and we even had some witty heckling!
| | |
| --- | --- |
| | |
A big thank you goes to Mrs Dearing for organising an outreach session from Bletchley Park last week for the GCSE Computer Science groups.   This involved a session about the history of Bletchley Park as a codebreaking centre in World War 2 and how the centre developed. This was then followed up by a workshop on codes and ciphers, students had different encryption methods that had been used throughout history explained to them. This began with simple encryption techniques, dipping into some of the mathematics behind making ciphers more secure, and ending with a hands-on demonstration of a real, working Enigma machine.
Mrs Whitehouse and her Biology prefects delivered inspiring assemblies last week that the prefects wrote themselves. The sixth formers explained how biologists and engineers work together to make prosthetics ranging from arms and legs to ears and noses. The clips they played were tearjerkers as we watched the very emotional responses of individual receiving their new ear, nose or arm. Maybe the assemblies will inspire some of our students to go into bioengineering and change the lives of people for the better! The biologists held a microscope lunchtime for Years 7 and 8 on Monday where they could look at the large slide collection. This Friday is dissection day!!! and the biology teachers are dissecting a heart, fish, pig trotter, rat and frog at lunch for any student who wants to come and watch.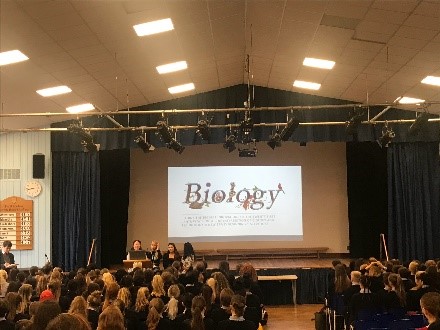 Mrs Styles, Head of Business and Economics coordinated the Enterprise Day for Year 10. The students have spent the day with volunteers from businesses (Young Enterprise organised them learning about how to set up and run a business, employability skills and personality traits. The teams had to create a trade stand and make a short presentation to the rest of the group on their business. The businesses were judged according to marketing, innovation, teamwork and elevator pitch.
Last week Year 11 had an assembly nearly every day – the biology week assembly of course, but also assemblies promoting the sixth form.  Mrs Dakovic kicked off the first assembly last Monday with an introductory presentation on the difference between psychology and sociology.  She used crime to compare the two subjects and explained that psychology was about the person where as in sociology students would study how society influences behaviour. Mrs Daly introduced the Health and Social Care Level 3 BTEC course that we are going to introduce this year.  Mrs Daly explained how it was less exam based and that many students go on to university to study nursing or child care. The course is a credible alternative to an A level.
Mrs Styles talked about economics and business this morning and Mr Furlong gave a presentation on government and politics.  Last Thursday Mrs Kemp and Mrs Bellis, our Heads of Sixth Form highlighted to Year 11 all the benefits of studying in sixth form such as knowing teachers and students so making for a smooth transition, having very experienced teachers of which many are A level examiners and all the enrichment and leadership opportunities on offer.  Anna, Emily and Ellie – all in Year 13 gave personal accounts of why they chose to stay on in the sixth form and the common thread was support from our caring teachers, the sense of community and being able to give back by inspiring our younger students.    The girls were great – thanks!  Our Sixth Form Open Evening is this Thursday 6:30pm to 8:30pm with a presentation at 6:30pm and we look forward to welcoming Year 11 students and their parents/guardians to the evening.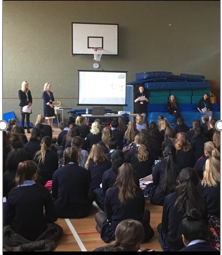 This week I have dropped into a few lessons where girls learnt how to chop an onion, convert time and distance into different units and in music, girls were learning about leitmotifs in action movies. Teachers were skilful in their questioning to check understanding as well as using whiteboards to encourage students to recall knowledge (my economists are hiding behind their boards in the photo!)….research on memory tells us that for students to remember things we need to make sure they are quizzed often as it is the recall that strengthens the memory….all very important for the linear GCSE and A level exams.
Finally, the Department of Education released the following advert to attract graduates to the teaching profession. It is a heart-warming film that encapsulates why we all love being part of the teaching profession!
Thanks
Anne Kennedy
Co-Headteacher