Dear Parents, Guardians and Friends
The end of last week was something of an assemblies' marathon, as alongside our weekly schedule of teaching staff leading assemblies to all groups, we also had some external speakers.
Mrs Dakovic presented a very useful and interesting assembly on the importance of sleep and how getting enough sleep is very important not only for your memory to be at its most effective, but also to enable your brain to take on more information. This was perfect timing in particular for our Year 11 and 12s who are now gearing up for their PPEs in the new year.
Exams seasons are hard, so to help students see the light at the end of the tunnel, on Friday a representative from "Lifesigns" came in to talk to Years 10, 11 and 12 about an exciting expedition being offered in the summer of 2021 to Costa Rica. The students left the sports hall very keen to find out more having had their interest piqued……… so there is an information evening for parents planned on the 11th December at 6pm in the 6th Form Centre. This is not to commit to the trip, but just for you to find out more details if your son/daughter is interested.
Also on Friday Year 8 and 9 had a fabulous assembly led by Katherine Sirrill.   Katherine is a lawyer, but is also the youngest ever female magistrate. Mrs Roberts and Miss Harris invited Katherine to speak because she gave such an inspirational address to all the finalists at the bar mock trials last summer at The Royal Courts of Justice in London.   Katherine spoke of her commitment to the justice system and her determination to make magistrates' benches much more diverse and more inclusive of women, and people from all ethnic backgrounds.
Katherine was so passionate, we are sure she has inspired many of our Year 8 and 9 students to audition for the Magistrates trials 2020. The Holt has a great track record with this competition, having got to National finals several times, including the last two years running. This year for the first time Miss Roberts and Miss Harris are opening it up to Year 8 as well as Year 9.
The auditions are on 7th– 10th January and anyone interested should look for more details on Frog shortly. Good luck! It really is a great event in which to be a part!
This week there was also more sporting success as our Year 7 and 8 athletes won the Wokingham Sports Hall Athletics competition at Maiden Erlegh on Wednesday 27th November. They are now through to the next round where they will represent Wokingham at the Berkshire Schools' Games. Well done to all the athletes and to Miss Flintham for taking them. Good luck!
This week, the temperature may have plummeted, but that did not put off our Year 8 and Year 10 netballers as they took part in this years' House netball.
The Year 10s had a great tournament and the results are as follows
1st place – 10C
2nd place – 10G
3rd place – 10W
Congratulations to Clothworkers! Here are some action shots!
In the Year 8 competition, the winners were as follows
1st –  8T
2nd– 8C
3rd – 8L
Well done Tanners! And here are the Year 8 action shots!
The students all had a lovely time. Thanks Miss Elford for organising this event!
Lastly for this week, we are all very excited about our annual Christmas Fair on Friday. The students through their Houses have been preparing in earnest for this for the last few weeks now! This event will start at 2.30 for Years 7, 8 and 9 and then the rest of the school are welcome to come along at 3.30 to join in the fun. The afternoon ends with the Raffle draw at 4.30pm.
As usual, there will be lots of House stalls selling sweets, chocolates and Christmas presents and goodies, as well as games and competitions for everyone to take part in. Of course the ever popular Tombola will be set up once again, and similar to last year, due to the overwhelming number of donations there will more than one Tombola table!
If you are unable to come along in person, you can still support the work of "Friends of The Holt" to raise money for the school by buying raffle tickets. This year, the prizes are…1st Prize – £250 Cash, 2nd Prize – £100 Cash, 3rd Prize – £50 Amazon voucher and the 4th Prize is a Gift Hamper. There are many other smaller prizes too, so worth buying a ticket or two!
We also manage to turn the raffle into a House event by seeing who brings back the most ticket stubs……..Holt reception is very busy in the mornings as the competition hots up!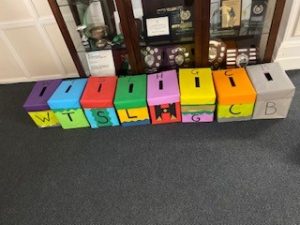 We look forward to raising lots of money for the school and thank you again for your kind donations!
Mrs Pearce
Co-Headteacher