Dear Parents, Guardians and Friends
This time last year, we were battling with the 'Beast from the East' and enjoyed two snow days! No signs of snow right now instead we are enjoying mild temperatures albeit wet and windy. Life in school is good with Year 12 receiving feedback on their PPEs, Year 11 are working on their NEAs (coursework) in practical subjects along with revising for their English and Maths 'waves' just after half term. The Year 11 girls who were in detention at lunchtime on Monday for uniform misdemeanours were in good spirits and resigned to the fact that studying is going to be relentless for the next four months!
Year 7 parents had their first experience of a parents evening last Thursday. They worked out the 'system' of when to approach the teacher for their turn and there was very little fuss over appointment times – thank you! For the Year 7 girls, the daunting thought of sitting with parents and teachers…. did not turn out to be that bad. Our teachers are reasonable and I can honestly say that mostly everyone left the evening happy!
Year 12, 11 and 10 house prefects volunteered to coordinate all the tea and coffee making for teachers and parents during the evening; it was good to see them practise their skills in striking up conversations with parents as they made drinks. Thank you to the prefects for giving up their evening.
We rely so much on the good nature of people in our community. At every parents evening we have retired Holt teachers selling second hand uniform to boost funds for The Holt Association – which is a group of ex-holt students (ages range from 90+ to women in their 20's) who get together and at the same raise money to purchase resources for the school. The second hand uniform is very popular, I feel with eBay and Deepop – people no longer worry about things being 'second hand' but instead see they save money and it is good for the environment to reuse. When you daughter outgrows her uniform please do donate it to the school – just hand it in at reception – or you could do a clothes swap!
Clothes swapping leads me nicely to promoting the Sixth Form house prefects Swish Sale on Friday 13th March at lunchtime in the main hall. Here are two slides from the prefect's presentation used in House assemblies this week.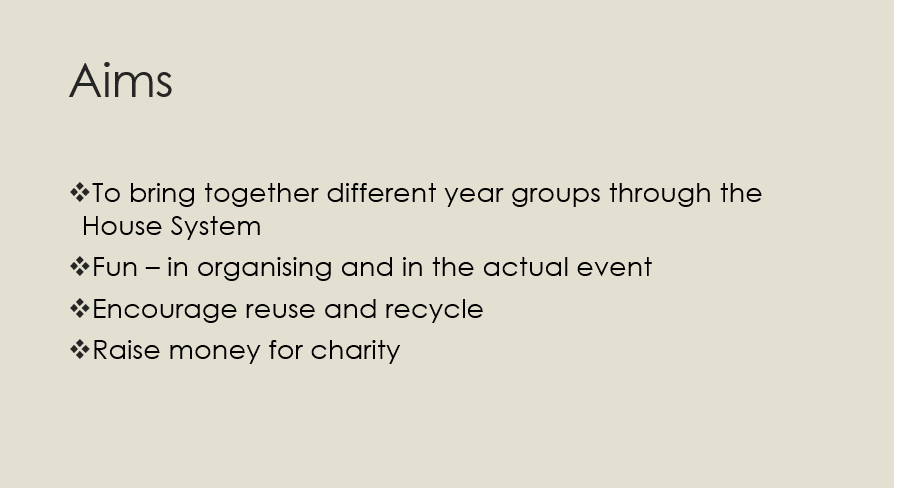 Over half term, please encourage your daughters to have a good cull of clothes that they have grown out of or just don't like anymore and to bring them to school. Clothes need to be dropped off in the Technology block. Girls receive tokens for clothes donated and they use the tokens to 'buy' clothes at the swish sale….so it is like a swap. Students will be able to buy tokens too – if they want to add to their wardrobe rather than swap. There will be music and cakes at the Swish Sale – so a perfect mix for most teenage girls! Money raised will go to charity. If anyone reading this has a stash of coat hangers, spare rails and/or full-length mirrors, please do contact Mrs Williams in the Technology dept.
Amrita, Arbor Meadows restoration project lead, and her friend Mary came into school to meet with some students to explain that the Winnersh NAG (Neighbourhood Action Group) planted a community orchard in Arbor Meadows, Winnersh, several years ago. Sadly, the orchard has been neglected and vandalised. As climate change and the environment is a serious issue, Amrita is hoping that a group of volunteers made up of children and adults could take positive action through restoring the orchard. Mary described the work needed to restore the fifty beautiful trees, including apple, pear, plum, cherry, quince, medlar and walnut trees. The council are behind the project and the work involves clearing the ground, mowing it, putting down heavy cardboard and wood chips as well as pruning the trees and sorting out any damage to the trees. Mary is also keen to make a twig pile to attract more insects. It all sounds very wholesome! Amrita and Mary are keen to have parents and siblings come along to help – if you are a keen gardener, you are very welcome but they are fine with just your son/daughter attending. The ladies are organising a Wassail ceremony after half term so all the volunteers can meet each other and to plan how to restore the orchard. The National Trust describe a Wassail as an annual tradition that involves blessing orchards to ensure a good harvest for the year to come. The celebrations involve music, song, dancing and a recognition of what orchards give to us. It dates from the Anglo-Saxon era, traditionally taking place on Twelfth Night, but now wassails take place between late December and February. https://www.nationaltrust.org.uk/lists/join-in-with-the-annual-wassail. Sounds fun! If you and/or your children are interested in volunteering over the next few months – please contact the school and we will put you in touch with Amrita.
Finally, another set of volunteers that we are indebted to for their generous amount of time that they give to the school, as well as sharing their expertise, are our school governors….you may have chatted to one at parents evening whilst waiting for appointments! We are very fortunate to have a dedicated and knowledgeable team of governors but we could do with more to spread the load – especially non-parent governors. Mrs Pearce and I will send out a letter next week to explain the role of a governor. In a nutshell there is a time commitment but it is excellent professional development – being exposed to HR, finance, strategic planning and there are opportunities to take on leadership roles such as chairing a committee, recruiting senior staff and being involved in panels for serious behaviour or HR issues. It is a fascinating opportunity to move out of comfort zones and to see things from a different angle. Our governors gain an opportunity to set the strategic direction of the school, shape the school development plan and see how they play out in practice and of course a great way to meet a new people. Interested? Look out for the letter going out next week by email and it will be on the website too. A shout out goes to all of our governors for their time, critical questioning and dedication to maintain the high standards of The Holt!
For rugby fans – enjoy the second week of the six nations…..growing up with three brothers all supporting England and my dad supporting Ireland, pining to be at Lansdowne Road, but instead having to make do on a velour sofa in a rather cramped sitting room in Portsmouth, the five nations as it was then was a big thing in my family home. I should be a very knowledgeable about rugby but I have to confess I don't know anything about the game….I just remember the emotions in the sitting room year of my teenage years ….very tense and I blocked it out with my Jackie magazine! In fact, I learnt more about the game observing Miss Shephard's rugby lesson on how to tackle a few weeks ago – it is quite technical. My boys and husband are all footy supporters….Manchester City and Newcastle FC – so I still endure tense weekends and evenings…the Magpies pulled through tonight at Oxford Utd – phew!
I hope you all have a relaxing weekend.
Anne Kennedy