As usual when the blog writing falls to me, the focus is primarily on the non-teaching aspects of the school that are both vital to support education, as well as making a key contribution to the overall experience for all of our students. I promise therefore not to talk about CAGS, TAGS or any other new acronym that has emerged from the COVID era, other than to say that we, along with all other schools, continue to ensure that the 'backroom' functions on which we rely to deliver our grades this year, such as our IT systems, are in tip-top shape.
Our marquees are still standing, in spite of a somewhat blustery Bank Holiday weekend. They've been up now for over 8 months and have become a very central part of students' lives. In spite of mud and other operational jeopardies, they seem to have taken on a life of their own, standing tall on the field, and now feel rather like old friends that will be sorely missed! At half term we will be saying goodbye to them as they (hopefully) return to their prime function of supporting hospitality and events.
This leads me on to providing an update on our plans to develop some of our outdoor spaces to provide additional sheltered areas for use during morning and lunchtime breaks. Friends of The Holt have already committed funds to enable us to start this project with 2 new outdoor areas – see what you think about the proposals below: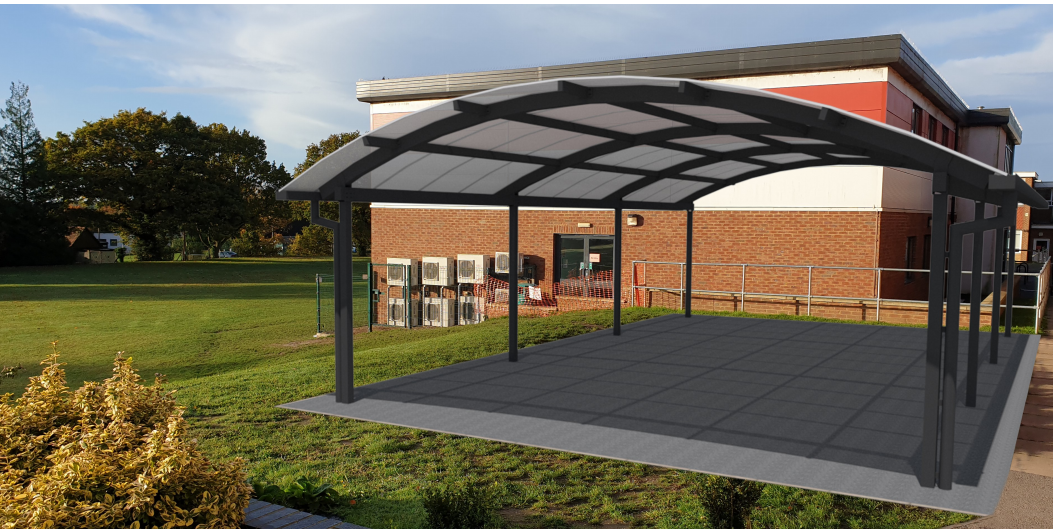 We are however still a long way short of our target and would be delighted to receive further donations for this particular project via our justgiving page, if you are able to help us!
We will keep you updated as our plans develop. Please do get in touch if you would like to learn more about Friends of the Holt and the work they do to support the school, or about the canopy project in particular.
Staying with the outdoors, we are delighted to be able to see many of our hirers back running their activities and classes on the school site – with the rest to follow once we reach the next post-lockdown milestone. Following some changes to the operations of the site, we are now able to offer our MUGA for weekend hire to the community – so please contact us if you are interested in hiring either the MUGA or any of our facilities.
Well, I think that's it for now. A short week ahead with lots to cram in, as usual. Have a good one!
Sian Lehrter
School Business Director