Dear Parents, Guardians and Friends
Cllr Lynn Forbes (well done for the re-election!) invited some of our students to apply to become student members of committees on the Wokingham Town Council. Following a rigorous interview procedure, a big congratulations to Hemani and Holly who will attend the Arts and Culture Committee and to Daniela who will sit on the Pla nning and Transportation Committee. Well done girls for putting yourselves up for selection and we look forward to hearing about the debates that go on!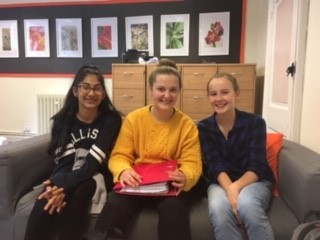 On another community matter, the disabled car parking spot in the layby in Holt Lane was recently marked out by the Joel Park residents to improve accessibility…unfortunately some of our parents and possibly our sixth form students are parking in it. Please use the parking spaces on Jubilee Avenue instead. Thanks!
It is a quiet but industrious time in school. Exam season is upon us! Year 10 started their PPEs last week and they go on for the rest of the week. Next Monday they will sit their first GCSE – POR and will take paper 2 the week after…..then time for rest and relaxation!
Year 11 and 13 are feeling excited – but also a little reflective – about their last few days in school before their GCSEs and A levels start in the next two weeks. Year 13 will share a leavers' breakfast on Friday with their teachers of seven years and then perhaps get a tiny bit emotional at the leavers' assembly before going on study leave.
Year 11 have their leavers' assembly after their exams on 28th June, on the day of the Prom. For Year 11s last full day at school, this Thursday, it has become tradition for the girls to all meet on the field at lunch to sign shirts, take pictures to post on Instagram …..and to eat doughnuts!! Mrs Vaughan, their HoY since Year 7, delivered a heartfelt assembly last week, sharing her top tips and memories. She has done a wonderful job, along with teachers and parents in turning young Year 7s into delightful young adults. Thank you!
Year 7, 8 and 9 are also preparing for their end of year assessments – much lower stakes than GCSEs but necessary, so when girls reach Year 11, they can take the exam pressure in their stride, just like our current Year 10 and 11. The revision lists for Key Stage 3 girls are out and we recommend a little bit of revision every evening so that girls feel well prepared before the half term holiday. We will not set home learning for the next two weeks nor during the two-week assessment period – so plenty of time to revise and to enjoy relaxing during the half term break!
Good luck to everyone taking exams – and we know it is quite tense for parents too…..we are rooting for you all!!
Best wishes
Anne Kennedy