Dear Parents, Guardians and Friends,
The staff and students have been having a lot of fun in the last week with House events, trips and sports day alongside attending lessons, taking end of topic tests, language orals and Year 9 have just sat their GCSE PPE (mock) in Philosophy of Religion.   We are all excited for the summer holidays but there is no way that the last few weeks of term have dragged!
Sports day was an absolute highlight of the year for Mrs Pearce and I and probably for most of our girls and staff.  Moving it to the morning was good as not only did we avoid competitors suffering from heat exhaustion but also it led to lots of positive unintended outcomes!  The students were spritelier in the morning which made for a very encouraging and supportive crowd.  Even the sales of 'mocktails', homemade lemonade, fruit kebab sticks and ice pops were more favourable compared to previous years – maybe because students hadn't loaded up their wisepay for break or lunch…most of the Year 10 House stalls made on average £80 to £100 for their House charity! As we had longer in the morning, the timings were not so frantic…if we ran over it didn't matter whereas in the afternoon everything had to finish by 3.30pm and finally by pure fluke we hired 'Richard' to set up the sound system and DJ for us!   The opening ceremony was impressive, the races were exciting, the Colour Run was a great success – raising £500 for the 'Friends of The Holt School' but Richard was the star….he brought Ibiza to The Holt!! Our girls had their first clubbing/festival experience in the middle of the running track at 11.30am….the girls were relaxed, happy and having lots of fun dancing with their friends – all year groups mixing.  It was joyful to watch.  After a last dance anthem, they happily went off to the last 20 minutes of period 4.  All the students were brilliant… they  all enjoyed the morning together….there was a huge sense of belonging and the unique spirit of The Holt was palpable.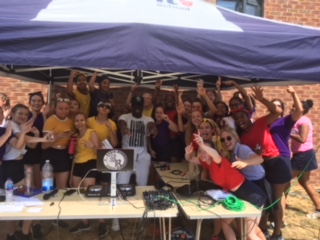 Well done to all the competitors – it was lovely to see so many girls take part.  The spectators need a big shout out too, they were the most enthusiastic crowd we can remember….some were even running round the barriers to keep up the cheer for their peers in the race.  It was heart-warming to watch.
Clothworkers were crowned sports day champions this year and the results for each year group were as follow
| | | | | | |
| --- | --- | --- | --- | --- | --- |
| | 7 | 8 | 9 | 10 | Overall |
| 1st | H | C | W | C | C |
| 2nd | T | G | S | G | W |
| 3rd | C | W | C | W | G |
Thank you to the PE department for organising a slick sports day, to the site team for arriving in school at 7am to set up the field in time for the morning start and to the Year 12 sixth form PE prefects and their friends – they were very encouraging to the girls as well as helping out with the organisation of the day. A final thanks to Mr Stromdale who was the MC throughout the event – he kept the pace up and his links were smoother than those of Alan Partridge!
A new tradition was introduced this year …. along with 'Richard' ….the PTA Colour Run.  The girls paid £10 to take part in an obstacle race where their white T-Shirts were covered in powder paint as they passed paint checkpoints.    Year 10 and Year 9 took part in the race along with some willing staff including the PE department, of course! the maths department, the learning link and some Heads of House.  Thank you to Mrs Perry, Mrs Simmons and the 'Friends of The Holt School' for organising the event to raise funds for the school and to all parents for supporting it by paying for their daughters to take part.
On Thursday, Year 13 students congregated at The Holt to pick up the coach taking them to Highfield Park…..the whole fancy car thing seems to be a one off for the Year 11 prom!  As always, the girls looked amazing in their outfits and some were looking forward to holidays inter railing or just chilling on a beach.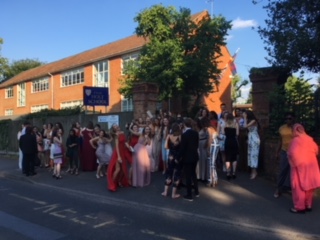 Year 8 celebrated  Día de la Hispanidad, the festival that commemorates the 'discovery of the Americas' and recognizes the cultural diversity of the Spanish speaking world.  Students attended a special timetable of lessons relating their school subjects to the Spanish speaking world; these included Salsa in PE, Day of the Dead skulls in Art, the voyages of discovery in History amongst others.  The day concluded with an Hispanic Masterchef competition with representatives from each tutor group planning and preparing a menu of dishes related to a festival of the Hispanic World. I was invited to be a judge and we were actually allowed to eat the food as opposed to look at it…..what a treat and quite handy as I had left my dull Philadelphia sandwiches at home that day!  We had seafood paella, chicken paella, chicken wraps, cheesy rice to eat followed by some very tasty desserts including an orange sponge cake with blue icing (we all had blue lips at the end), almond dough balls, cheesecake and cookies.  Standards of preparation, cooking and presentation were high and results will be revealed at the Year 8 presentation assembly on Thursday 12th July.  Thank you to Mrs Stoker and Mrs Arter for their time in organising the day and the MasterChef.
Mrs Griffiths from the Learning Link has introduced gardening to the ASDAN curriculum.  Jessica led the Berkshire 'Schools' Gardening Competition' and the garden was awarded the Gold Award for the second year running and the Ashridge Cup by the Wokingham Town Mayor despite tough competition from gardens in other local schools. Well done!
Last week, Mr Gray took a group of seven students from the ukulele club to Addington school to perform in their 'Proms' week. The students performed three songs in one of the morning concerts and then led a ukulele workshop to one of the classes, teaching them the song 'Send my love'.  Thanks to all who took part.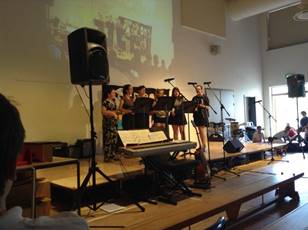 The Royal Grammar School in Guildford had its annual speakers day on 4th July and Mrs Styles and Mrs Vaughan  were invited to take some of our Year 10 and 12 economics students. The theme of the day was inequality and started off with an interesting talk from Professor Neil Rickman from the University of Surrey on behavioural economics, gender, the labour market and inparticualr the reasons for the persistent 10% gender gap.  Professor Sarah Smith from the University of Bristol, used examples from economic theory and behavioural economics to show how we can encourage people to give to charity.    The students enjoyed a lunch in Nandos on Guildford high street. Lastly, Vicky Pryce spoke about the role of women in economics.  She addressed the market failure caused by a lack of women in the workforce and the gender pay gap and suggested various government interventions that could be used.  This led to an interesting, and sometimes heated, question and answer session.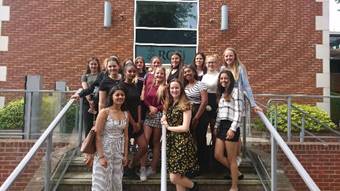 Anna from the Teenage Cancer Trust gave an informative talk to Year 10 as part of their PSHE curriculum last Thursday.  Anna gave some helpful tips on how to support friends who are diagnosed with cancer –  to keep up contact and keep them involved in teenage life – as well as explaining the types of cancer and treatments.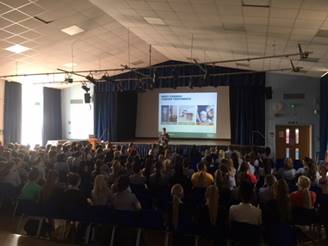 Miss Jongkind took nine Year 12 students to the Reading University Chemistry Department where some lecturers taught them along with PhD students on various chemical analysis techniques and how to interpret and analyse the results given; they also had a tour of the Chemical Analysis Facility (CAF lab). The students were able to test their skills by trying to deduce who stole Professor Powell's guitar based on the analysis of several chemicals found at the crime scene. After a tour of the campus and a talk on where studying chemistry could take you, they heard from several PhD students on their innovative research. The final talks including topics such as self-healing polymers that could be used in windows and phones to fix their own scratches and how chemistry could be used to spot coin forgery. We need chemists to keep on discovering new things to improve our lives as well as to contribute to future economic growth –  so hopefully the girls were inspired to study the subject to higher level, whether it be straight chemistry or maybe chemical engineering.
Year 12 are on their enrichment week.  On Monday they engaged in some team building with the Army.  Despite the heat, the students got stuck in and together they successfully completed a set of problem solving exercises on the field that involved barrels, sticks and poles.
The students have been on work experience since Tuesday – for three days.  Mrs Hart, our new careers lead, has done a wonderful job in organising all the placements – about 15% of students found their own placements.  We are very grateful to all the parents who volunteered placements and Mrs Hart used her initiative and sheer perseverance to secure placements for the rest of the students.  One of our most creative placements was for a student who wants to study marine biology – she is working in the aquatics centre in a garden centre!  It was tricky to find placements in medical environments but our potential medics will gain a lot by seeing the unglamorous side of medicine in care homes. A budding vet handled pigs on a farm today and another student was helping at the South Hill Arts Centre fair, three language students are gaining work experience at Windsor Tourist Information Centre and our media/publishing girls are designing book covers at a local graphics company.  We are appreciative of all the contacts made through our parent body – thank you.   The students are taking themselves out of their comfort zone –many probably felt nervous going to their placement for the first time, meeting new people and having to manage a new environment.  How good is that for them?  They will get through it and be more confident as a result… ready for the next challenge as they step out of their comfort zone again.  Taking on these opportunities helps students to calibrate their feelings when things are good and bad as well as boosting their self-confidence.  This helps them prepare for life post 18.
Year 7 also stepped out of their comfort zone in the public speaking competition organised by Miss Roberts in the English department.  All of Year 7 had to prepare a speech based on 'if I could change something it would be….', they delivered them in their English lesson and the class voted for the best one.  The winners then represented their House in the competition.  The speakers delivered their speeches to the whole of Year 7 – they were clear, confident, and passionate and their use of gestures, rhetorical questions and tone made for a stimulating period 5 on Monday.  Mrs Thomas, HOY 7, Mrs McClelland, Head of English and I had heated discussion over the top three placements…it was close…. and we voted Chloe as the winner.  She spoke about the representation of women in sport. Aleeyah was runner up and she gave a quirky and ironic speech on how Year 7 should not have to go through public speaking (but in the end she turns this viewpoint around).  Phoebe, who was third, shared her passions about the NHS. It was very close and all seven speeches were of exceptional quality.  Well done to all of the girls who delivered a speech and to Year 7 for being such an encouraging audience.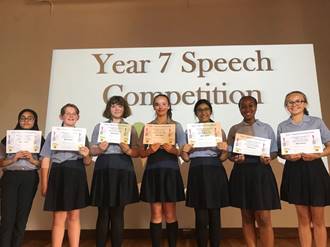 The English department also organised a 'Global Poetry by Heart' competition for Year 8 where students had to memorise and recite a poem off by heart in front of the year group. Mrs Pearce judged the competition with Mrs McClelland and Mrs Wood and after much deliberating Millie, Rhea and Eleanor were voted first, second and third.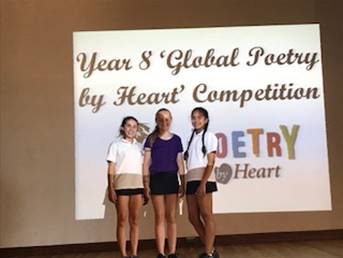 The Technology department took Year 10 & 12 students and Year 10 Graphics and Resistant Materials students to the New Designers exhibition in London last week.  Mrs Williams said it was a fantastic trip where our students truly embraced the opportunity to explore the range of products from the different areas of the design industry including product and industrial design, furniture design, spatial design and interiors, graphic design, illustrations and animation and motion and digital arts, fashion, textiles print and knitwear. The students showed great maturity and confidence by asking the graduate designers at the exhibition about their products and the stages of development they went through. The information they collated will be invaluable to their NEA (coursework) assessments. The students really appreciated the opportunity to gather information and to research routes into the design industry beyond A Level. Mrs Williams said the absolute highlight of the trip was listening to our students enthusiastically discuss what they had seen, why they found it inspirational and how what they had learned could be applied to their individual NEA projects. Creative design is a growth area in employment and there are some great product design university courses and alongside engineering will certainly boost the lives of others if we have more designers coming through.
Finally, it was the opening viewing of the GCSE and A Level Art exhibition which showcased the creative and visual flair of our students.  Thank you to Mrs Skeates and her team for putting the show together.
All these experiences and opportunities cannot be underestimated in building up the self-confidence of our students, making them appreciate the performances of others, being a bit gutsy and moving out of their comfort zone and for some discovering new interests and friends.  Our staff are always expressing their delight at how appreciative our students are – they know when people are giving up time, going out of their way to make things happen for them and they will say a simple thank you and that means so much. The behaviour of our Holt girls was brilliant on Friday – they had fun but were respectful.   Thank you to parents too….a reflection on all the smoothing of the rough edges that goes on behind closed doors at home!
Mrs Pearce and I are looking forward to Sports Personality tonight starting at 5pm to ensure we are all home in time to watch most of the England game and on Thursday it is the summer music concert.  Presentation assemblies begin on Thursday and go through to the end of term.  We end the school year with a whole school assembly in the sports hall and the last blog of the year will go out next Friday to end the year.
Fingers crossed for Gareth Southgate and his team.
Anne Kennedy