Dear Parents, Guardians and Friends
It is 12 days until Christmas!  Festive celebrations began in earnest last week with the arrival of the beautiful tree in the school hall.
On Friday, the Heads of House, the sixth form senior House prefects and Year 11 prefects all did a wonderful job coordinating the House stalls and deploying form prefects to run them throughout the afternoon of the Christmas fair.   It is so good for the students to mix up across year groups.  Thank you to the parents who came along to a rather decimated looking fair at 3.30pm – the only stall that was still worth a visit, was the bottle tombola! Mrs Simmons, our deputy school business manager, on behalf of The Friends of The Holt, masterminded the fair and the money raised will go towards the dance and drama studio extension, if the bid is successful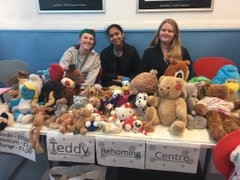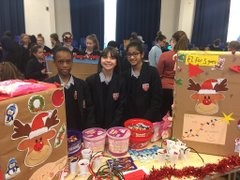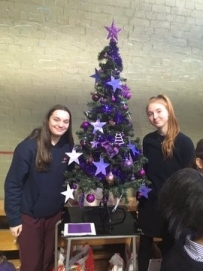 Yesterday and today Mrs Pearce and I served Christmas dinner – one of our highlights of the year!  The sixth formers know to come to us, as our portion control is a bit out of sync…especially the 'pigs in blankets'.  We served around 700 meals in total – thank you to all the catering staff for the cooking.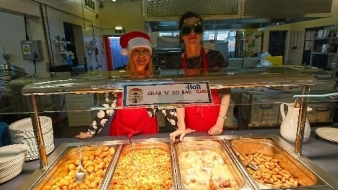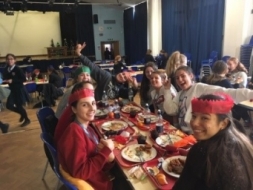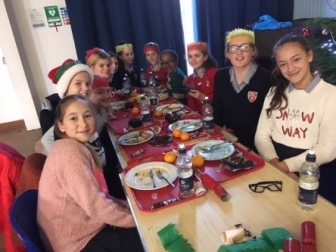 The Café is closed now until the beginning of next term to allow our new caterers, Chartwells, to set up and train our staff, who have been transferred over to Chartwells.  I think everyone is excited for the new menus – especially the return of chips on Fridays.
BBC One's captivating Christmas Film, Wonderland, is quite emotional – as was the one last year.  It illustrates families relishing the joy of spending time together at Christmas.  There has been a mixed reaction to the film, with many working women wondering why the filmmakers put the burden of guilt on the frantic mother, (what was dad doing?) but I think most of us, whether a mother or a father, can relate to how the mother feels!  The film reminds us that when we do get some time together with our children to be sure to cherish it…I think this is also true for us parents spending time with our parents and elderly relatives too.  The film reminds us that teenagers really do want their parents  as much as primary and pre-school children do……but it is harder to catch the right time as teens like to spend time in their rooms and with peers – I think the BBC are hoping we will watch more telly with them!  It is only 2 minutes.
https://www.bbc.co.uk/iplayer/episode/p06szjkr/bbc-one-christmas-wonderland
We are looking forward to seeing many of you at the Christmas Carol Concert in St Paul's Church at 7pm on Thursday and next week we welcome back our ex Year 13 at the A level Certificate presentation…..it is always exciting to hear how university or their new jobs are going!
Anne Kennedy
Co-Headteacher