Dear Parents, Guardians and Friends,
It has been a busy week across all year groups. Year 11 had an intense week of exams with English and Maths PPEs, alongside PE practicals and for some girls, prep for the music concert. The girls have been brilliant pacing themselves; it will be a bit of a treadmill for the next eight weeks until the start of the GCSEs, with coursework deadlines, Art exams and revision as well. However, planning for the Prom brings light relief as well as the long summer holiday – which is often the first experience of freedom and independence for our young women!
The Holt Choir, made up of 27 girls across all year groups performed as part of a massed choir in Berkshire Maestros 'Music leads the way' gala concert at the Royal Albert Hall. This event was organised by Berkshire Maestros and involved around 1,800 students from across Berkshire in various ensembles. The Holt sang in the secondary schools choir and sang a piece by John Rutter called 'Feel the Spirit' with Berkshire Youth Symphony Orchestra. It was a fantastic day, producing a high quality concert and a great opportunity to perform in the Albert Hall. Thank you to Mr Gray, Miss Harris and Mrs Carter for their time in rehearsals in the run up to the events and for accompanying the girls on Monday.
Miss Harris was at the Crown Court in Reading with Miss Roberts on Saturday and sixteen Year 9 students to take part in the first round of the bar mock trials. The competition immerses students in all aspects of a criminal trial, as they take on the roles of barristers, witnesses, clerks, ushers and jury members. The team have worked on their logical reasoning, clear communication and teamwork. Our girls performed in front of real judges and were assisted in their preparations by Jeremy Best and David Pinnell, for which we are very appreciative. The Holt were up against eight other schools – well done to Maiden Erlegh who came top and we were runners up so have to wait until all the heats are over to see if we are through to the regional finals. Fingers crossed and thanks so much to Miss Harris and Miss Roberts – it is their first time leading the competition as well as all the parents, grandmothers and siblings who came to support. It was lovely to meet you all.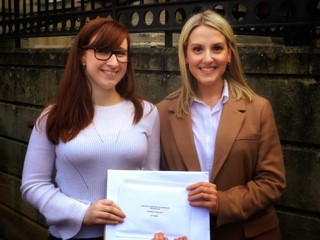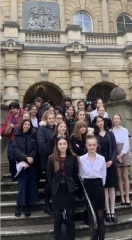 Year 7 enjoyed their visits to Rushall farm in the Pangbourne Valley, studying a typical mixed farm in the UK. This is part of a section of work that looks at food issues both in the UK and wider world. The students looked at farm machinery, crop rotations, soil types, diversification and the animals on the farm. It is a very popular trip, with tractor rides and the opportunity to hold a baby lamb! Thank you to Mr Marrison for organising and to all the staff who accompanied the girls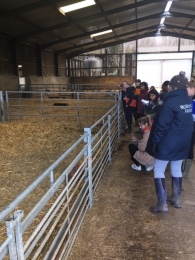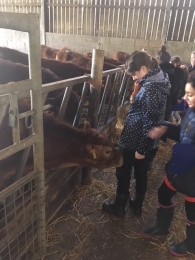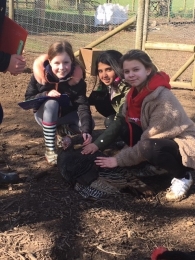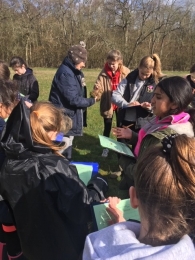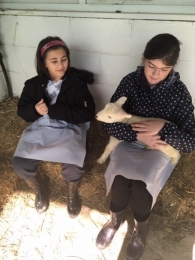 'I loved maths and physics at school so I wanted to do something that involved these subjects'…the common message our inspirational women engineers gave as they presented assemblies to different year groups last week. Thank you to Carron Freeney, a chemical engineer, Dr Clare Watts who leads on space physics at Reading University, Sarah Bastajian who is a Business Development Director at Wilmot Dixon Construction, Emma Gilchrist, a civil engineer and Gosia Barclay a design manager who were both from Balfour Beatty. I really think they will have inspired some of our students to consider engineering as a career pathway for all sorts of reasons; the travel, teamwork, pays good money and of course the application of maths and science subjects. Thank you to Mrs Hart, our careers lead for organising all the speakers for assemblies but also the lunchtime seminars where we had speakers from Atkins, Eilean Appleton from Wilmott Dixon (an ex-student!). Sarah Nobari a software engineer working on mobile phones and Lindsay Mitchell form the BMW Group explaining the Apprenticeships that the company run. Thanks to all involved!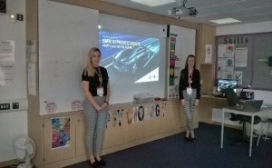 Last week culminated with World Book Day; the obligatory dressing up as book characters…(the English teachers were "Women in Black") decorating the doors in the English department competition (well done to the winners, 7H!) and most importantly the Year 7 book swap, so everyone went home with a new book. Thanks to Ms Mirza who organised World Book Day.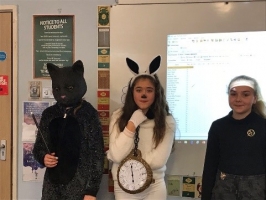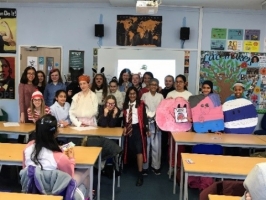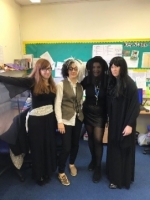 We are appreciative of all the volunteers, the extra hours staff give and of course the enthusiaim of our girls in taking part to make last week so good.
Finally, our Student Leadership Team of 2019-20 were interviewed and selected last week too. The girls had to do an assembly to the whole of Year 7 on their style of leadership, then a 'fishbowl' exercise where they had to plan an end of term assembly – the current Student Leadership Team observed and graded the performance of the candidates and finally they had an interview with Mrs Pearce and I, the sixth form team and our chair of governors, Charlotte Selby. It was a difficult process for us as all eight candidates were very strong. congratualtions go to Olivia Alborough, who will be head girl after Easter and to Bea Stoole, Lydia Shute, Erin McCarthy and Emily Ciccazzo who make up Olivia's deputies.– well done!
I hope you all have a good week.
Best Wishes
Anne Kennedy