Dear Parents, Guardians and Friends
Mr Furlong delivered remembrance assemblies all week to mark 100 years since the end of the First World War. The Royal British Legion led a national movement to say 'Thank You' to the entire generation who lived through the war and in form time our students watched the #thankyou100 film.
At 10.45am, Year 7 and cadets gathered to hear readings and listen to Father Richard from St Pauls share his reflections. We were delighted to have David Macintosh, John Cornish and Chris Hall from the Royal British Legion join us, (David and Chris served in Northern Ireland and John served in Egypt in the 50's) as well as our longstanding friends of The Holt, Mr and Mrs Griffith and our new Chair of Governors, Charlotte Selby and ex Chair Peter Mercer. In Father Richard's reflections, he reminded us that remembrance is not about glorifying war or a day of nationalism but that it is a day for remembering. Remembering that healthy communities and a healthy world need courage, selflessness and sacrifice. He also encouraged us to remember individual lives and families and communities shattered by war. He reminded us that we are not remembering a list of names but that we are remembering individuals, like Frederick Fullbrook who is the youngest person on the St Paul's war memorial. He was 16.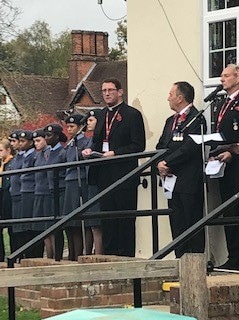 Mia Pike and Emma Vokes read For the Fallen by Laurence Binyon where the words remind us to neither forget nor overlook the effort and sacrifice of the First World War generation, as well as their successors in later wars and conflicts. The loss of life was unimaginable and it seems so many young men had no idea what they were signing up for and of course the women developed huge amounts of resilience and stoicism amidst the sadness of war. David Macintosh from Arborfield British Legion and Natasha Lelliott read the middle verse of The Fallen and then Alice Burrows played 'The Last Post'. To mark the end of the two minutes silence she played 'The Reveille'. Our guests spent some time after the service looking at our handmade poppies and the statue of the solider from the 'There but not There' project that St Pauls was part of to remember especially, the 62 men from Wokingham Parish who lost their lives in the First World War. Year 7 behaved very respectfully in this moving commemoration.
On Thursday, around 30 girls from all year groups took part in the technology challenge. In groups of 3 or 4, the girls had to build a structure, from paper and straws, that crossed a 50 cm gap. The structure has to take as much weight as possible as well as allow a small Matchbox car travel across the 50 cm gap. The structures the girls created were well designed with the zigzag technique being the most successful in creating strength. The winning teams were 10S and 8L and Year 13. Well done! Thanks to Mrs McCarville for organising the competition. The winners go onto represent the school in a similar competition at The Bulmershe School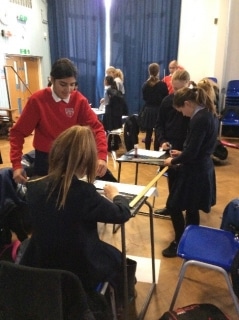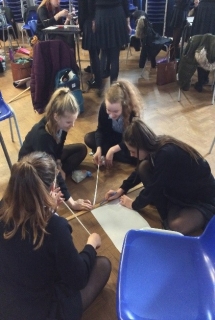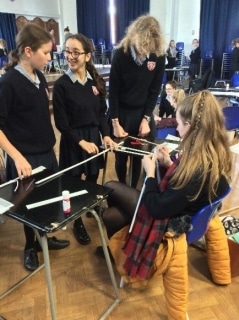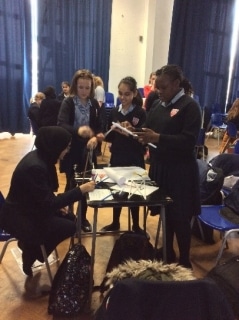 Mrs Baker took four of our mathematicians to the Senior team maths challenge on Monday and they came a very respectable 11th out of 24, which was great as the heat had lots of private schools and grammar schools. The girls did very well and were a real credit to the school.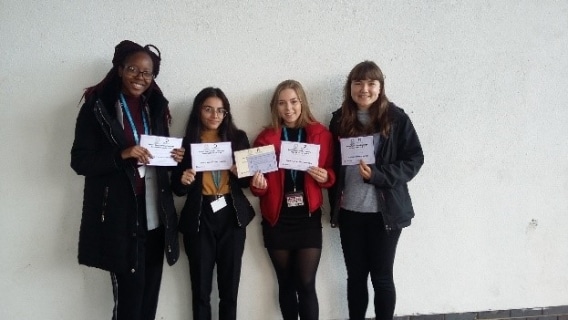 The House geography quiz, organized by Miss Barrett was also held last Friday. There were five challenging rounds on flags, identifying countries by latitude, land area and population, an Ordnance Survey Map (that would have been my favourite – I have always remembered the PH symbol from my O level geography!), landmarks and identifying countries from its outline…Italy was in there! Lacemakers were first, followed by Weavers and Clothworkers came third. All had a great time and the doughnuts were very popular at the mid-way break!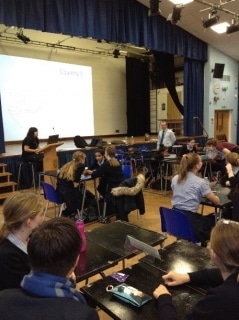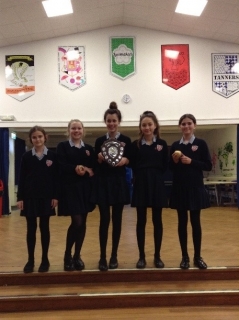 I read about Parent Info this week, which is a free website and newsfeed for parents and carers. Its newsfeed function enables schools and family-focused organisations to host and share expert advice and information through their own websites. Parent Info aims to raise parents' confidence in digital parenting skills and help them to make informed decisions about addressing the risks their children face. To date, Parent Info has commissioned content from over 40 organisations specialising in topics such as sex, relationships, online safety, body image, peer pressure, radicalisation, extremism and mental health. Parent Info is a collaboration between the National Crime Agency's Child Exploitation and Online Protection (CEOP) Command and Parent Zone, the leading provider of information, training and support, making the internet work for families. Any tips on parenting is useful and I thought some of the articles were informative.
This week we look forward to the Year 11 music concert on Thursday and it is the Wokingham Youth Parliament Election at the end of the week too. We had 14 girls put themselves up for nomination and our sixth form student leadership team shortlisted to five students. The voting will take place on Thursday, Friday and Monday. Mrs Pearce and I will see the five shortlisted candidates on Tuesday morning to give them the results before releasing the results to everyone on Tuesday in registration. The manifestos were very persuasive with policy ideas including being consulted on building work in Wokingham, bringing young and old people together to reduce loneliness, having more public toilets and making the roads and cycle paths safer. Some girls wanted to campaign for the police station to be reopened, to lobby for more mental health help available for young people, more youth clubs and green spaces, to promote more quality and many had strong views on litter and recycling. Well done to all the girls who handed in a manifesto – it is great to have them want to be part of decision making and influence change.
I actually saw Christmas lights on a house today………
Best wishes
Anne Kennedy