Dear Parents, Guardians and Friends,
We had our first face to face parents' information evening for our new Year 7 parents last Wednesday. It was so good to be back, talking to an actual live audience and engaging with them like the good old days! Teams is a great tool, and virtual presentations served their purpose, but it felt so energising to have a room full of people. Thank you to all those who attended, it was a great turnout! Tonight, is the turn of our Year 12 parents as their daughters and sons navigate their way into Key Stage 5. We look forward to seeing you in the 6th form Centre at 6pm.
We also had our first fire drill of the year last Wednesday, and we certainly picked good weather for it. The students were out of the buildings and lined up on the field in a matter of six minutes. I was impressed with them all. They walked calmly and purposely and were so quiet you could hear the breeze rustling in the background on the field. On this occasion, students had to navigate our remaining building works to use the quickest exit to the field which they did swiftly. Mrs Simmons who leads on Health and Safety was also impressed with the students.
On the subject of building works, our canopies are coming along nicely. We hope they will be up and running in a couple of weeks. Having been delayed from the scheduled finish due to the supply and transport issues from which most organisations are suffering, along with Covid related staffing shortages, we are pleased to say the company are sending staff in over the weekends to get the job completed as soon as possible. They are going to look really great.
Here is a sneaky peak.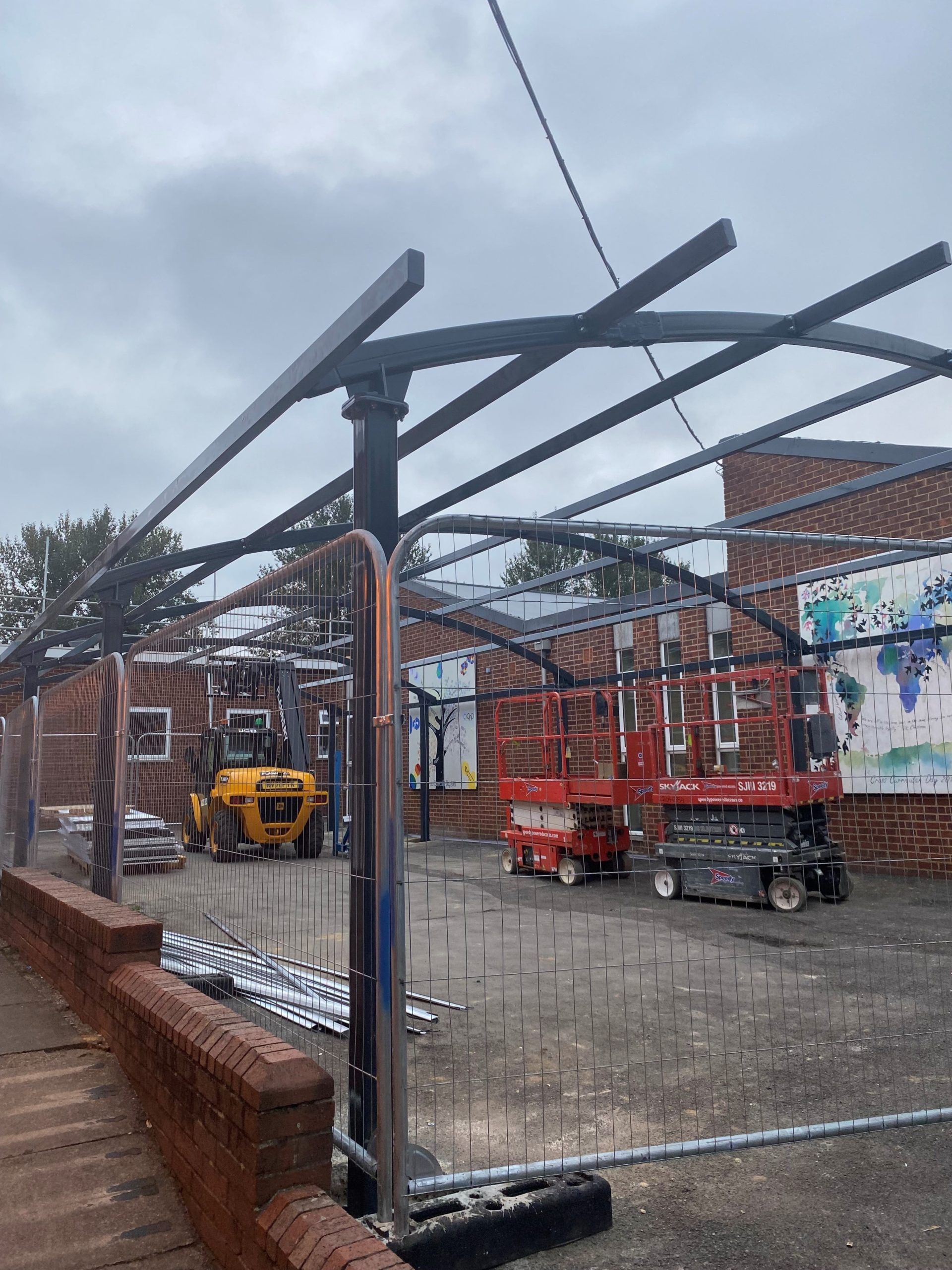 This one is between the hall and the English department……..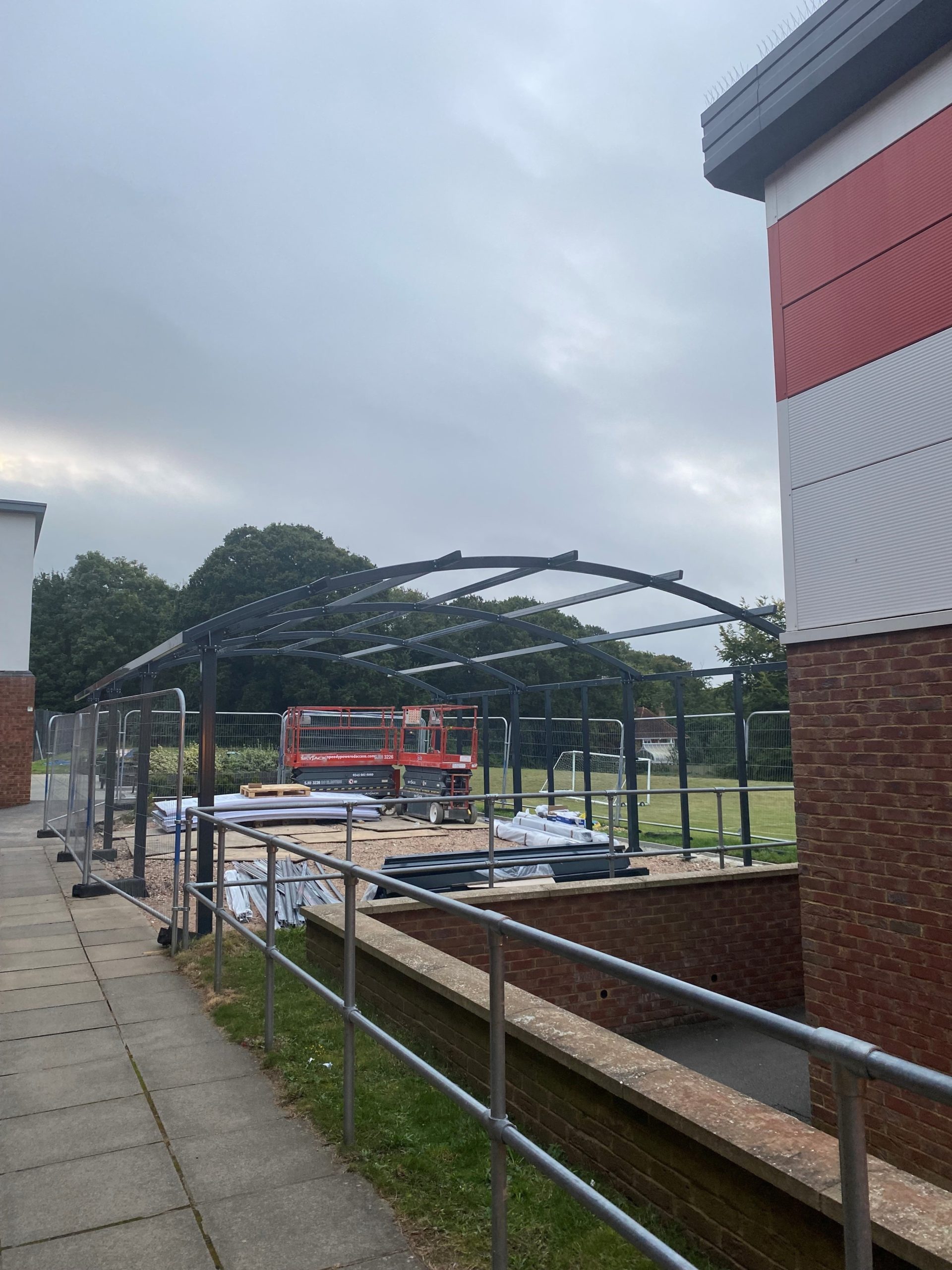 This one is by the humanities and 6th form blocks. The aim of these is to provide shelter for our Key Stage 3 students during break and lunch.
The site has benefitted over the summer from other upgrades and has attracted Camp Beaumont to open their holiday clubs on our site, which of course brings in much needed additional income to the school. Mrs Simmons asked me to include this little plug for Camp Beaumont.
We are delighted to announce that award-winning school holiday adventures will soon be coming to The Holt School. Camp Beaumont's confidence boosting day adventure camps are filled with fun, new friends and exhilarating activities for every 3-16 year old, and are now available to book for the upcoming October half-term. Simply head to http://www.campbeaumont.co.uk/our-camps/the-holt-school to secure your spot today!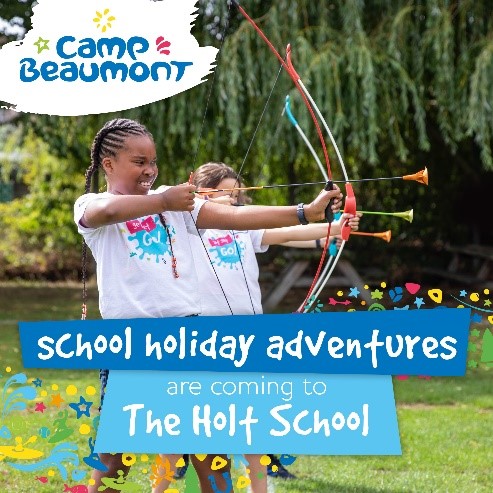 Additionally, the school facilities are already used by several community groups offering fitness, performing arts, badminton and gymnastics during the week. If you are interested in hiring any of our venues, the school is now also open for weekend lettings in the sports hall, gym, main hall, drama hall and drama studio as well as the field and MUGA. For more information please email lettings@holt.wokingham.sch.uk
On Thursday, Ms Ward and her 6th form tutors led our annual UCAS information afternoon. The aim of this event is for tutors to talk to their Year 13 tutees and their parents about the UCAS application process. I am now familiar with this process from a parents' perspective as well as a teacher as this time last year, my eldest daughter and I were on the "UCAS circuit" ourselves. It was so exciting for her, but fast forward one year and here we are ready for the off this weekend! School years roll by so fast as a teacher, but more so as a parent…..as I look in our spare room, chokka block with "student stuff", including the obligatory door wedge……(to show you want to be sociable apparently!) I can't believe, firstly that it will all fit in the car, but secondly that we will be making the big drive up the M40 ready to wave her off on her next adventure. It seems like only 5 minutes since we waved her off to start Reception.
So, to all our parents, guardians and friends who are also making the "Freshers' trip" this weekend or next, I wish you and your daughters and sons the very best of luck. For me, at least I can also consider this "first" as another element of my on-going professional training for when I am next at one of our UCAS evenings or post- 18 events!
See you tonight Year 12 parents!
Katie Pearce
Co-headteacher