Dear Parents, Guardians and Friends,
As Mrs Kennedy reported last week, the focus of our assembly for this term was Challenge.
Hemani Rull in 9C, pictured below, certainly challenged herself last week as she took part in the local elections for the Youth Parliament MP for Wokingham. Having been successful in our own rather rigorous internal election process, Hemani went along to Shute End with Mrs Williams, who leads on our Student Voice programme, for the final round. Hemani was up against candidates from the other Wokingham schools. They all had to give a timed three minute presentation of their manifesto to the panel.
After all the speakers had finished, there was a vote to elect the winner. Hemani didn't win unfortunately, but gave a stellar performance of which we are all rightly very proud, particularly as she was the youngest candidate. Putting herself out of her comfort zone, will definitely have helped her to build those character muscles that we talked about last week in assembly. The more you build your character muscles by taking on challenge, the more confident you are about taking on the next challenge.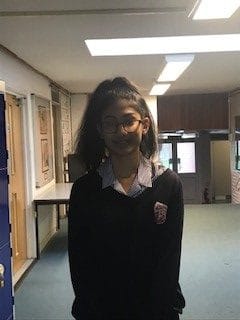 Perhaps sometimes the challenge is for us as parents to let our children take some risk and have a go at something at which they might not succeed. This was certainly the gist of an article I read by Jonathan Haidt last week, published in the Guardian. It described a new word, "antifragile", which was used to describe the very important gains that come from what might be seen as negative things such as shocks, challenges, and disorder.
It goes without saying that we want to keep our children safe. However, exposing them to normal stresses and strains is vital for their future wellbeing. The article quotes from a book called "Antifragile" by Nassim Taleb, and he uses "bones" and the "banking system" as great analogies to the lack of exposure to challenge. He said both get weaker – and more prone to catastrophic failure if they go for a long time without any stressors and then face a major challenge.
He says, and I quote, "the immune system is an even better example: it requires exposure to certain kinds of germs and potential allergens in childhood in order to develop to its full capacity. Parents who treat their children as if they are fragile are depriving their immature immune systems of the learning experiences those systems need to develop their maximum protective capacity"
The article goes on to advise us to administer some "stress inoculation" in our children by letting them face challenge, in the same way that vaccines induce immunity against disease by exposure to small amounts of that disease.
Anyway, I thought it was an interesting article. Here is the link if you would like to read the whole thing.
https://www.theguardian.com/commentisfree/2019/jan/10/by-mollycoddling-our-children-were-fuelling-mental-illness-in-teenagers
Looking forward to seeing Year 9 parents and students at our options evening tomorrow evening starting at 6.30pm in the main hall.
Katie Pearce
Co-Headteacher