Dear Parents, Guardians and Friends
As another academic year draws to a close, I am delighted to share more wonderful end of term moments, celebrations and successes with you.
Last Wednesday was the amazing "Sports Personality of The Year" awards evening. The PE department really put a great team effort into this event, and it is fair to say that Mrs Bolton could rival Sue Barker, Clare Balding or Gaby Logan as presenter any day.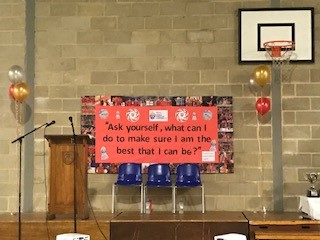 Joined this year by Amy Flanagan, an England netball player, we were first inspired by what she had to say about the importance sport and being part of a team, before she then presented the winners with their prizes.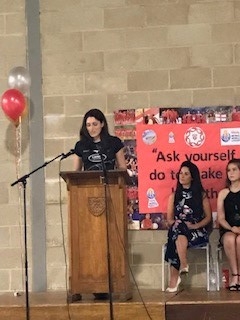 Amongst the winners were. Abi Miller for her contribution to School Sport, Abi Turner for sport in the community and Katie Fisher, Abi Miller, Millie Whitehouse, Cerys High-Milam form the latest part of The Holt Hall of Fame. The Key Stage 3 Sports Personality of the Year 2019 went to Tori Fisher, and the Key Stage 4 Sports Personality of the Year 2019 winner was Ellen Wilkins.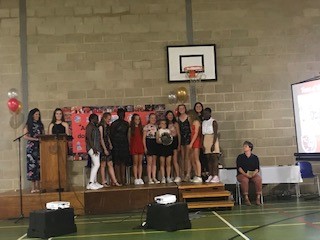 It was truly a lovely evening. Well done to all nominees and winners and thanks to the PE department who have had an extraordinary year of success and have certainly filled many of our blogs over the last 12 months!
House science was also the centre of much excitement for Year 8. Led by Mr Wolton, this event saw students over the course of two weeks of lessons in their form groups, complete six challenges that were judged by senior teachers. The tasks involved decorating the room with boards celebrating the Periodic Table (150 years old!) and a timeline showing the development of a device. Other groups created the specification for an App and a model of a Future Technology. Finally, they all watched a summary of a lesson on a Famous Scientist and looked through a science newspaper and website. Highlights included a holographic phone, an element identifying App and a Periodic Table made of celebrities (Harry Styles was Hs, Hassium).
The students really enjoyed the activities and excelled in the creative and historical aspects of Science. They also appreciated the chance to work in teams for their Houses.
The winners of this House event were Haberdashers in first place, with Clothworkers second and Weavers in 3rd place.
Thanks Mr Wolton and the science department for organising this. Here are some pictures of the work produced.
Last week Haberdashers also held their end of term "Bake off". There was a huge amount of entries, and some very impressive cakes! The students had a great time and raised £80 in an hour. The winning entry was by Mrs Hagger!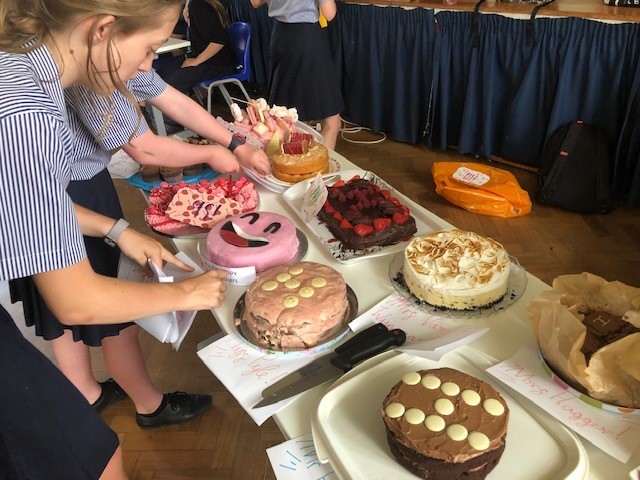 On Tuesday, Year 10 had their "day in the life of a 6th former". Students were able to come into school in "college appropriate wear", to replicate what it is like in the 6th form. They spent the day in "awe and wonder" A level style lessons, enjoyed the facilities of our lovely air-conditioned 6th form centre and got to line up before the bell in the Holt café!
The students had a great day and really got to see the benefits of staying on at the Holt 6th form.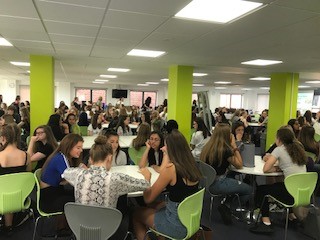 On Wednesday, we had our annual Holt clean up……students and staff came into school ready to "muck in" for the last hour of the day and clear lockers, carry out recycling and remove gum from desks amongst other things.
Our school is now much cleaner now and ready for September. Thanks Mrs Perry for organising this.
As well as a nice clean school, we end the school year with an amazing school garden. Worked on by Mrs Griffiths, Ms Shephard and several students over the last year, the garden has now started to bloom, and looks lovely.
Well, it has been a busy year, a busy term and a busy last week……….and as the end of the year is now here, it is for me to say a thank you and farewell to the staff that are leaving us……
Mrs Perry, our school business manager will be retiring after 8 years at The Holt. Ms Royle is re-locating to Dorset with her family where she is taking up a post as an Assistant Headteacher. We also say goodbye to Miss Jongkind in the science department, Mrs Turley in drama, and Miss Barrett in geography and Mrs Mathers in the Learning Link. Lastly, we say farewell to Peter Mercer who has been a governor at The Holt for the past 14 years and was our Chair of Governors for 3 years. Thank you to everyone for all your contributions over the years to making our school such a great one!
Good luck to you all and please stay in touch.
Thank you also to you, our parents, guardians and friends of The Holt. Mrs Kennedy and I have felt very supported by your positive messages, your interest and attendance at school events and of course, the hits on our blogs…………
Have a fabulous summer and we look forward to welcoming Year 7 and 12 back on Wednesday 4th September and the rest of the school back on Thursday 5th September.
Mrs Pearce
Co -Headteacher