Dear Parents, Guardians and Friends
This week's blog is an extracurricular extravaganza…..there has been so much going on here in the last week that I am not sure where to start…….
Last Wednesday, Mrs McCarville in the technology department led a really exciting heat for The Rotary Technology Challenge.
The challenge set was to design and make a prototype vessel which would float on water and carry as many pennies as possible. The material provided consisted of four paper straws each 10cm long plus a piece of tin foil 10cm square. Each team was made up of four members. We had great participation this year with fifteen Year 8teams, nine Year 9 teams and four Year 10 teams- an all-time record for this event.
The girls impressed the staff with their enthusiasm, ingenuity and creativity as they worked together to sketch out and then create initial designs which they tested and modified. They were then issued with fresh material to create their final design. Lastly, they completed design sheets, which explained how they had come up with their designs and detailed all the modifications that they had applied. Year ten prototypes were tested first and then they took on the responsibility of testing all remaining teams. As two teams tied, each balancing an incredible fourteen pennies, the tie breaker was the completed design sheet.
The overall winners from Year 8, 9 and 10 will go on to represent The Holt School at the regional tournament on the 13th of December at UTC Reading.
We wish them all the very best of luck. Thanks Mrs McCarville and the technology team for running this events.
In the world of sport, the PE department once again celebrated success last week, as their Year 8 A team won the South East Berks Netball tournament at St George's School. Mrs Bolton said our girls were outstanding, beating St George's in the semi-final and then the Marist School in the final. This is a fantastic achievement as the tournament is packed with strong independent schools and this tournament has alluded The Holt now for a number of years! Our B team also did really well and finished 7th overall. A great day. Well done to the girls and thank you Mrs Bolton.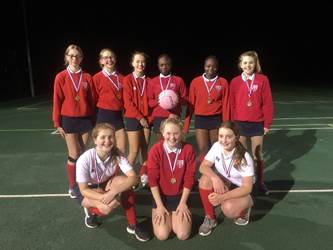 It is great to have competitive sporting successes, but it is also lovely to see so many students taking part in sports clubs just for fun…..The Sixth Form Team were really impressed by the level of participation by our Year 12 students in Benchball last week. Sport is such a great stress buster!
As well as taking part in sport, any outdoor activity can be lots of fun and last week a representative from the organisation Bushcraft came into school to talk to our Year 8 and 9 students about a residential outward bound camping challenge that we are launching now to run in Activities Week in the summer term. I think the girls were sold by Bushcraft's equivalent of the Bush Tucker Trial, as Ms Herron, Mr Adams and some brave students had to eat mealy worms in front of everyone …..!
They did reassure us that mealy worms are not a typical Bushcraft dish- so don't panic!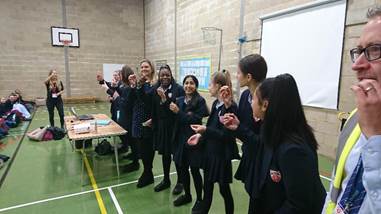 The girls were really enthused by the talk and activities and so we have extended the deposit deadline to the 2nd December, so there is still time to sign up if your daughter is interested in going.
Last week Mrs Bethancourt- Smith led the first session of her brand new debating club for Year 8.
The debate club is for any Year 8 girl who would like to develop their confidence in public speaking. In the first session, they discussed the benefits of debating and picked their debate for the next session – Should there be a monarchy in the UK? The girls this week debated as to which item they should take to a deserted island. They had to argue their case as to which item they should jump ship with! It was between a water filter, dog, Swiss army knife and scuba gear! We look forward to hearing more from these students! Thanks Mrs Bethancourt- Smith for setting this up.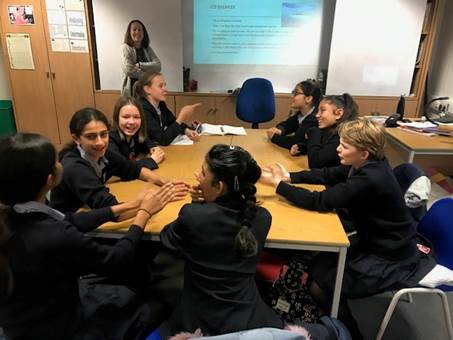 Last Thursday members of the Senior Leadership Team along with Mrs Kennedy and I, were invited to the Learning Link Café.
The café is ran by some students in Year 10 who made delicious cake and served it to us with a nice cup of coffee. The service was very professional and we enjoyed a lovely conversation with them about their hobbies as well as their favourite work so far this Year.
Thanks Liberty, Isabella and Abi. We really appreciated the invite.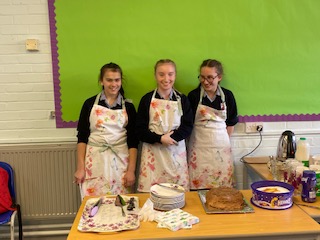 Last Thursday night was also the Year 11 music students' class concert. This event is such an important one, as it is preparation for their solo and ensemble performances for their GCSE practical.
They were excellent. The evening was hosted so confidently by Amelia Millard and Katy Hill and the students played so beautifully, coming together at the end for the moving piece Photograph, with a back drop of each student as a baby.

Well done girls, and thanks Mr Gray for all the hard work that went into this. Year 11 are now working on their first PPEs (Pre-Public Exams) in maths and English and so are very busy at the moment.
We always say at The Holt, that you get out what you put in and there really are clubs on offer for everyone; sports, music, drama, art and curriculum clubs. We want every student to take part in at least one club because they gain so much from it. Not just skills and knowledge, but more importantly, students build their confidence, resilience, wider friendships and team work. If your daughter would like to join a club then please do look at the website and download the timetable, there really is lots of choice and we are so very appreciative of our staff who lead these clubs.
Lastly, if you would like to increase your extra-curricular participation, or if you have a friend or family member who would like to "give back" to the community, we are currently looking for new Governors. We will run a Parent Governor election in January, but if any non-Holt parents are interested that you know of, please ask them to make contact with Carole Hodges, Clerk to the Governors, through the school switchboard.
Many thanks
Mrs Pearce
Co-Headteacher