Dear Parents, Guardians and Friends
Another busy half term draws to close and we are very much still "heads down" for exams at The Holt. The GCSEs are in full swing and it is good to see so many Year 11 students in school attending those all-important last minute lessons and working hard in the study room! They will certainly have earned some exam respite over half term!
Once we come back in June, the A levels will have started and so too on the Tuesday will the Key Stage 3 assessments. The Heads of Year have sent home revision packs and a booklet on revision strategies and class teachers are talking to their students on the best ways to revise for their subject. Having a revision schedule is key; one that highlights study slots as well as when family outings and other down time are planned. Being in control of revision is the secret to not feeling quite so overwhelmed and so is balance; we would not advocate a full week of revision for Key Stage 3 students. The assessment period is spaced out over a fortnight to allow the students to pace themselves and get into study habits.  We encourage our students to use these assessments opportunities as part of their learning process, building on what went well, in addition to what they could do differently next time.
This PE department had a successful week last week. Firstly, there was the 7's rugby tournament at Hungerford which although out of our area we are invited to play in each year.
The U15 team came 2nd losing to The Downs School who is their direct competition as we managed to win the Berkshire 10's title this year. The U15 are an excellent 7's team keeping the ball alive with excellent ball handling skills.
The U13 made amazing progress from their last tournament and finished a respectable 5thimproving their defensive line and attacking play. They also had their first experience of contested 3 man scrums and 2 man line outs which was great to see.
Both teams played with grit and determination showing excellent rugby skills and knowledge and team work. Thanks to Miss Shephard for her hard work as well.
The athletics squad also enjoyed a great day on Thursday for the first round of the Track and Field Cup at Palmer Park. There was a fantastic team spirit in the air and an incredible team effort shown by our girls. There was some very tough competition from other schools but we persevered with some great results. A special well done to Fatou Gaye and Grace Huskinson who achieved personal bests in their chosen events. Both our intermediate and junior girls relay teams also won their races to finish off a very successful day. The final results were our junior girls placing 5th and our intermediate girls placing 2nd hopefully securing themselves a place in the Regional Finals. Thanks to Miss Elford and Miss Godfrey for preparing and taking the students.
| | |
| --- | --- |
| | |
The maths department also celebrated success with the results of the most recent Year 7 and 8 maths challenge. In all there were 13 Gold awards, 19 Silver and 29 Bronze. Four of our students, Chloe Salter in Year 7, and Matilda MacLean, Josie Fieldsend and Maddie Vass all from Year 8 now progress to the next "Kangaroo" national round, which is very prestigious. Well done to all the students and thanks to Mrs Tearle for entering this competition.
Over the weekend, two of our girls, Sanjana and Rishika Desai in Year 10 and 9 participated in an international robotics competition and got through to the finals in Hungary. They came in the top 30 from over 700 competitors which is a really great result. Well done girls!
In other news, I am delighted to tell you about Jessica Steven Roberts in Year 9 who was entered into this year's Royal Horticultural Society's Young School Gardener of the Year competition. Jessica was selected as one of the finalists and has now been put through to the second round of judging. Her next challenge is to produce a film demonstrating why she is an exemplary gardener. I know she will rise to this challenge and I look forward to watching her video.
Jessica is a talented gardener and for getting this far she has already won a Gabriel Ash Baby Grand Coldframe worth £475 and a £100 National Garden Gift Voucher for the school. Finalists also receive an engraved hand trowel trophy and framed certificate.
Good luck Jessica!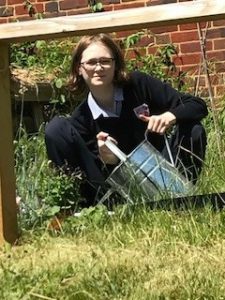 This week as well as the being the last week of this half term, is also the last week of school for our Year 13 students. Their seven year journey at The Holt has come to an end and Mrs Kennedy and I along with Mrs Bellis and Mrs Kemp and the sixth form tutors are looking forward to their leavers' assembly on Thursday before we wish them well as they start their final preparations for their A level exams.
Good luck Year 13.
Finally, have a lovely and restful half term break and we will see you in June.
Katie Pearce
Co-Headteacher
23 May 2018