Dear Parents, Guardians and Friends
We have had a very exciting week at The Holt which started last Thursday, as we celebrated some good news in the science department. Firstly, Mrs Whitehouse, Head of Biology, received the results from the recent KS3 and 4 biology Olympiads competition.
The biology Olympiads is an externally assessed and national competition which challenges and stimulates students with an interest in biology.  They are encouraged to expand and extend their work and demonstrate their knowledge so as to be suitably rewarded with publicly recognised certificates and medals.
The paper is a tough one and whilst we are usually fairly successful, this year, in Mrs Whitehouse's words; "We have done amazingly well".
Over 43,000 students nationally sat the biology Olympiads exam and we are delighted to say that our results are as follows;
In Year 9
Gold – 2 awards
Silver – 2 awards
Bronze – 32 awards
Highly commended – 36 awards
Commended – 25 awards
In Year 10
Gold – 17 awards
Silver – 14 awards
Bronze – 31 awards
Highly commended – 20 awards
Commended – 13 awards
Secondly, Mrs Rooms from the chemistry department received the results from the chemistry 6th form Olympiads.  The paper they sat was an incredibly rigorous two hour paper in which they had to apply their A level chemistry knowledge to university standard questions.
We are again delighted with the results this year which are as follows: Amy Forrest – Silver award, Lauren Webb – Silver award, Kate Rafferty – Bronze award, Katie Jones – Bronze award, Ylana Gibert – Bronze award and Rebecca Leach – Bronze award
We are very proud of our scientists and their success, well done girls!  I would also like to thank Mrs Whitehouse and Mrs Rooms for their hard work preparing the students for these competitions!
Also last Thursday we celebrated success in the sixth form when our Young Enterprise company won overall company of the year in the area finals competition.
The Young Enterprise Company programme is a national scheme whereby sixth form students have the opportunity to set up and run a real business.  This year a group of 13 students set up a company called "Unique", which made and sold environmentally friendly and sustainable candles made out of soya wax, cotton wicks and using recycled jars of various kinds.  The company raised money initially through selling shares. Each student then took on a specific role in the company from managing director, through sales, marketing, finance and operations to company secretary and they would meet weekly with their business advisor, David Davies who volunteers for Young Enterprise and who provided help, advice and business insight throughout the programme.
Last Thursday, the team went to the area finals, where they set up a trade stand, answered questions from the judges (from the world of business) and made a formal presentation to the judges, business advisors, teachers and the other contestants from local schools.  The team won the best presentation as well as being voted overall company of the year.  This means they now progress to the county finals.
The students really have done a great job and worked hard this year. They had a good product and they had a strong sales strategy across the school. Well done to all those involved and thanks go to Mrs Styles, Head of Business and Economics as well as to David their advisor. Good luck in the next round!
On Friday lunchtime we were blessed with the beautiful weather as Weavers celebrated their success in being crowned "House champions 2017-8" by coming together for a "House party" on the field. Mrs Williams, who leads the House team, and Miss Izod, Head of Weavers, proudly attended as Weavers from all year groups joined us for music and picnic food on the field. A good time was had by all. Well done Weavers, and thanks to Mrs Jones and the Holt Café team for providing a lovely picnic.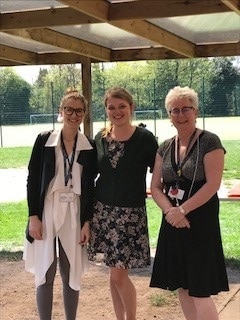 On the subject of "Houses", this leads me nicely on to this week's news. As you may be aware, from September 2018 we are going to be expanding by adding an 8th form group in Year 7, and the main question on everyone's lips was what will the new house be called.  We have thought a lot about this and as you may know, there is a great history to our Holt House system so any new house would need to fit in with tradition.
We were therefore delighted to welcome back Mr Thomas a former Assistant Head, and Mrs Carroll, former Head of Technology, who between them have an incredible 65 years of Holt teaching. They are still heavily involved with the school despite their retirements as they lead the Holt Association and manage the Holt archives.  So, a great resource for us to tap into!  Mr Thomas and Mrs Carroll gave assemblies to students to share with them the history of the school and how the original House system came about. They told the students how the three original Houses were Clothworkers, Spinners and Weavers, named after both the initial letters of "Wokingham County (Girls') School" which was the name of The Holt back then, and also traditional women's guilds.
On one slide, they showed us a shield announcing that Weavers were the House Champions for the year 1933 and I did smile at the coincidence that only last week, Weavers were also the House Champions for 2017-18!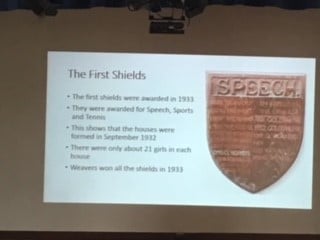 Mrs Carroll explained that as the school name changed to The Holt, it also expanded to take on more students and so a new House was needed; so, in 1943, Goldsmiths was born, taken from the G in Girls' School. Further expansion then required the staff at the time to draw on inspiration from the initial letters of Holt Lane and so Haberdashers and Tanners were born! Then, once again in 1992 expansion saw the creation of Lacemakers, which takes us to the present day!
The new House, we decided would need to start with B for Berkshire in keeping with the tradition of using the school address! The names Bakers, Broderers, Boywers and Basketmakers were shared with the students as options.
On Friday, a survey monkey will open to all students and staff where they can vote for their preferred name. And so the next chapter of Holt history will be born! These are very exciting times. We will let you know the result in due course.
Katie Pearce
Co-Headteacher