Dear Parents, Guardians and Friends,
We have lots of wonderful girls at The Holt; for their participation and willingness to give things a go, for their immense dedication to give stunning performances, for their gratitude and sense of fun! Brace yourselves for lots of thanks and photos!
First up – thanks to Mr Gray and Mrs Carter for organising the KS3 Solo concert to showcase our talented musicians in Years 7,8 and 9. 23 girls performed –playing the piano, guitar, violin and singing. The girls bought joy to parents, relatives and friends on a very dismal and chilly evening last Wednesday. The girls were brilliant and at such a young age, it will be exciting to see how they develop in the next few years…..our message to them is 'don't give up' …each girl brings so much pleasure and emotion to the audiences they perform to and that must be a good feeling!
| | |
| --- | --- |
| | |
| | |
| --- | --- |
| | |
The sports hall was buzzing last Wednesday with House Dance….always a keenly awaited competition. Year 10 worked with Year 7, 8 and 9 in their Houses to create three dances – one per year group.The girls have been rehearsing for weeks….it was the perfect excuse for them to stay in the classrooms at lunchtime when the weather was a bit grim!Their practice and creativity paid off – all the dances were excellent. They had to dance to a theme – Year 7's was land, air and sea, Year 8's theme was earth, wind and fire (no one danced to Boogie Wonderland or Let's Groove – too young J) and Year 9 was about conflict. Thanks to Miss Elford and the PE department for organising and judging as well as all the form tutors who turned up to support their girls – they appreciated it! Well done to 7S, 8W and 9H for coming first!
On Friday, the music department organised House Music for Year 8 – the theme was ABBA. Everyone in each form had to perform – which was truly in the spirit of House events. Mrs Pearce judged with our music prefects – Gemma and Lydia. 8L sang Waterloo, 8C 'Take a Chance', 8T ' Mamma Mia', 8G 'SOS', 8H 'Thank You for The Music', 8S 'Dancing Queen' and 8W 'I Have a Dream'. The girls put a lot of effort into their actions, freestyling and harmonies. The winners were Tanners, Haberdashers came 2nd and Weavers 3rd. Well done to all the performers – they all looked like they were having fun!
The PE department are very busy nipping out with their teams of girls to take part in competitions and in between putting in the hours of practice to refine their skills.
  Miss Cardy wrote 'On Thursday afternoon we hosted our first cricket tournament for the U16 Girls team. We entered two teams into the tournament competing against two teams from Maiden Erlegh, one from Waingels and one from Luckley House. It was so lovely to see all of the girls' hard work in the recent training sessions pay off. There were some outstanding batting and fielding skills shown on the field, with many high scoring overs. The Holt B team managed to achieve an amazing third place in the tournament and the Holt A team managed to win the tournament!! So proud of the girls'. Well done to all involved and to Miss Cardy for organising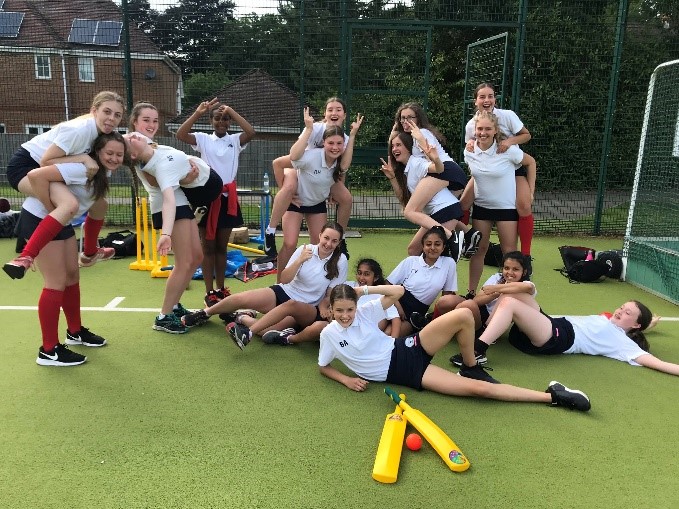 Miss Cardy also took the U14 athletes to Palmer Park in Reading to compete in the District Sports. She wrote 'The U14 athletics team returned to Palmer Park for the Reading and District Athletics League Final. Going into the final event the girls felt the pressure, due to currently coming first out of 25 schools in the local area. Some outstanding performances were shown on the track from all athletes! The team were determined to continue their winning streak and managed to do so, securing the title of WINNERS of the Reading and District Athletics League. The girls held their heads up high when standing on the podium collecting the trophy, which was last won in 2015.
Tomi, Amelia, Sophie and the relay team (Tomi, Shardae,Lottie and Georgie) all received individual medals for "best performance out of all competing" Absolute dedication, commitment and hard work has been seen by the athletes and this has definitely paid off. Congratulations girls, the PE department are so proud of you! " Thank you to Miss Cardy too!
Miss Howgill, Mrs Wood, Miss Herron and Mrs Dovaston spent last weekend with 44 Year 7 students in le pré Catelan, near Calais.  The party left on Friday morning and enjoyed visiting the French market, speaking some French on the town trail in Hardelot, as well as taking part in different challenges at the PGL centre. They arrived back on Monday evening – tired.  Thank you to Miss Howgill for leading the trip and also to Peter Mercer, one of our longstanding governors who volunteered to make up the staff – student ratio for the trip and to all the staff who gave up time to ensure the Year 7s had a memorable experience.
This week, we also welcomed some Year 5 girls for a secondary school experience day and on Monday we had the Year 11 sixth form induction day.  The Army and Peter Owen from Lakeland Training ran team building, problem solving and leadership sessions. We were delighted to welcome just over 100 students to the day and look forward to seeing them in September.
The Year 11 leavers' assembly is on Friday and in the evening, The Prom…..everyone is at fever pitch for it!There will be pictures in Mrs Pearce's blog next week.
So we have girls going out of their comfort zone, reaping the rewards of hard work and dedication and most importantly having fun – all good!
Enjoy the sunshine this week.
Best wishes
Anne Kennedy
Co-Headteacher