Dear Parents, Guardians and Friends,
Year 11 have had an intense two weeks with three maths PPE (mock) exams and one English Literature exam. They coped really well with the relentless nature of one after the other and seemed in good spirits. Our dedicated English and maths teachers are marking the papers right now and their feedback will be invaluable to students regarding knowledge, understanding and exam technique. The experience is all good practice for the summer, by which time we hope we have prepared our students well and that they are at peak condition and ready for the exams!!
Year 11 were however able to relax from the daily routine of school, as they attended the sixth form taster day last Friday. Mrs Bellis and Mrs Kemp, Heads of Sixth Form, welcomed Year 11 and some students from other schools during a brief assembly. Students then went off to try out four different A level lessons or to attend sessions run by local colleges. Our current Year 13 and Year 12 students also contributed to the day by delivering sessions on 'Life in the Sixth Form'. We were delighted with the feedback from Year 11 and the overwhelming message was that they felt they would be well supported, that there are many opportunities and our teachers deliver great lessons!
On Tuesday, our Year 12 students celebrated their achievements during a GCSE certificate presentation morning. Amy Castle played Largo – 1st Movement from Sonata No.3 in E Minor on the piano. Abi Turner, Rishika Desai, Jasmin Alberici, Honey Craft and Lulu Briggs then shared their memories of life at The Holt from Year 7 to Year 11. These included reminiscing about the discos in Year 7 and 8, food in the café, the build up to the GCSES, of course the Prom along with other small misdemeanours that happened over the last five years. Tamanna Steven performed her own composition on the piano before students collected their individual certificates from Mrs Vaughan. We gave out 20 progress awards. These were for those students who made relatively more progress between KS2 and KS4 compared to their peers. Iqra Ajmal won The Holt Association Endeavour Award and Phebe Dowse won the Charlotte Evans Award for service to the school. Well done!
Former student Victoria Timmins presented the certificates to the students. Victoria left in 2013. She graduated from Cardiff university with a First Class Degree Bachelor of Science in Adult Nursing. Vicky reflected on her days at Cardiff and told the students that she grew in confidence and loved the independence, where there was more responsibility but less rules!
From Cardiff, Vicky moved to Frimley Park Hospital where she was a staff nurse on the Surgical Acute Dependency unit. She shared with the students how this first job taught her the importance of the understanding the basics of nursing- including being kind, caring, compassionate and always working well within a team. Vicky decided to take a gap year after two years of working where she spent six months travelling around Asia, Australia, Fiji and New Zealand and then six months as a chalet girl during the ski season. When the money ran out, Vicky came home and went back to nursing. Vicky secured a job at St Thomas' hospital working in intensive care. She talked about her experiences in intensive care and ended by saying that the job is highly rewarding and that she feels honoured and proud to call herself a nurse.
Vicky's sincere and personalised message to the students was about working hard, looking for opportunities to gain experience as well as the importance of networking and seeking advice from others who have achieved success. She reminded the students to stay healthy and motivated, to spend time with friends and family and to never give up. The speech was spot on! To end the celebration students and staff enjoyed a bacon sandwich and a muffin in the Sixth Form Centre. Thank you to Mrs Smith who coordinated the event and huge congratulations to all our Year 12 students for their success at GCSE!
Lastly, an exciting opportunity for anyone being swept along with politics, or just taking an interest in what your local candidates have to say; there is an opportunity to speak to prospective candidates about issues close to us all, including education. Here are details of the Wokingham Hustings and everyone is welcome to attend.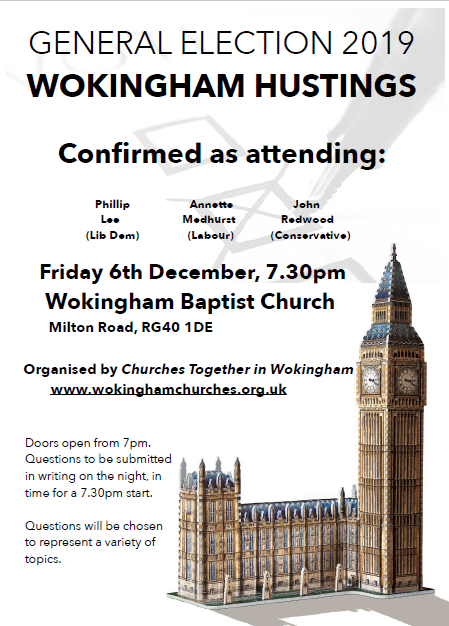 We are interviewing for the new student leadership team today and it is Year 13 parents evening tomorrow and the school Christmas tree is arriving on Monday ready for the Christmas Fayre on 6th December!!
Have a good week
Anne Kennedy