Dear Parents, Guardians and Friends
As I am writing this blog, the sun is shining and the sky is blue, there is definitely a feel of spring in the air. We are all really hoping that this continues into the Easter holidays particularly as we are now able to meet in our gardens and outdoors (two households or groups of 6 of course).
This has been an unusual term; it does now seem a long while ago that students were at home engaging in their remote live lessons, although we have actually been back teaching face to face for only 3½ weeks. It is great to have a busy school again and to be able to communicate and interact with students properly in lessons, even if it is from 2 metres at the front of the class!
The students have worked really hard this term, and this was recognised in the end of term presentation assemblies (through Teams of course.)  Each year group held its own assembly yesterday which involved recognition of achievement and effort as well as a variety of talks and speeches.
A student from each year group has summarised their assembly below –
Year 7
The assembly started off by announcing the tutees of the term then 'Flourish' certificates were awarded. Three members of 7C sung the song: This Is Me! After this amazing performance, 7B was announced form of the term.
7G then talked about home schooling and how they coped, 7H spoke about what they are passionate about, in this case, it was fair-trade. We learnt that doing simple things such as just picking foods with the fair-trade symbol could help hundreds of thousands of farmers elsewhere!
We then received our subject certificates. After all the forms had given out the certificates, 7L then read a little poem about friendships. Afterwards, 7S gave a review of their life in lockdown, 7T then talked about school council.  7W then told everyone about cookery club. Mrs Priddy said the final goodbye and happy Easter. That is what happened in the year 7 spring assembly!! 😊
Thank you to Eshani from 7C
Year 8
To start the presentation assembly we listened to an amazing piano piece. Miss Izod then gave out the tutee of the term and flourish certificates to congratulate those who had gone above and beyond in their school life. 
8L performed a poem about mental health and how important communication with friends and family is when times are hard. 8T gave a great performance singing Lemon Boy. Up next 8W gave us a great deal of information on the covid vaccinations and how it will change our hope for the future. We saw a snippet of what band club have been working on. The performance was outstanding and they worked so hard and it came out with a great result! 
Our form tutors then handed out subject certificates to congratulate people on significant achievements in a wide range of subjects. A student from 8T explained to us about her sewing journey and how it changed during lockdown. 8T were rewarded with chocolates for form group of the term.  8G introduced us to environmental club and what they do to help. They told us about some things we could all do at home to take a part in protecting the environment.  
Miss Martin and Miss Izod gave thanks to all the form tutors, teachers, Mrs Attride, site team and the IT team. All teachers deserve a massive thanks and applause. We are very happy to have so many people supporting us. 
Thank you Emily and Ellen  8W
Year 9
'The presentation assembly is an excellent way to celebrate student's achievements and to honour or path and life when we are in and out of the Holt.
Last term 9T got form of the term. I'm very happy for this as they really did deserve this for their kindness, ingenuity and a sense of community which makes me feel happy to be who I am.  This term 9W was recognised as form of the term.
The presentation assembly makes me appreciate me, my friends and my form all together when I learn about their achievements and mine as well. I love our school and I hope you feel the same as well not because of the subjects but because of our community and how friends are incredibly influential towards our success and theirs.
This is what happened in our presentation assembly – three piano interludes, a talk on the power of speech, recognition points, Mrs Pearce's final speech and important thank yous.
Thank you Jothika 9T
Year 10
Well done to all the tutees' of the term! One student from each form was awarded this certificate for their outstanding contribution to their forms and personal achievements. Along with that, to the girls who got flourish certificates! The form of the term went to 10C for their participation in house events and determination.
We then had a presentation from members of 10T about Sarah Everard and her story. We learnt that over £500,000 was raised in her memory and will go to grassroots women's charities. 10W talked about the types of feminism, another presentation talked about the legal side of feminism and this was interesting as we were taught about the history and timeline of women's rights to vote. A group of students talked about the transgender community and famous people's life stories. The next presentation was on Women in Sport, we learnt about how Venus Williams fought for equal pay for all players and successfully won. This was inspiring and motivating to see a positive change in the world. 10G gave a lovely presentation on inspirational women and how they made an impact. They talked about Dr Maggie Aderin-Pocock and her achievements and how she encouraged other females to pursue a career in science. This left us all feeling incredibly encouraged to inflict good change and made us reflect and be thankful for those who make big impacts.
Overall, the presentation assembly was a nice way to conclude the term in terms of recognising achievements, awards and raising awareness on issues.  The contribution from different forms made it engaging and knowledgeable and was a great sign of confidence and being proactive.
 Thank you Shreya 10G
Year 11
Over lockdown many of us have been challenged with new and different obstacles and without others by our side, tackling them has become exceedingly difficult. As a year 11 student with never-ending piles of revision and homework, celebrating our hard work with subject achievement awards, tutee of the term and flourish awards is critical. It reminds us of what difficulties we have already overcome and reassures us that our hard work is being recognised.  Undoubtedly, the last term will bring more challenges however the presentation assembly has reminded us to confront them and have the confidence to overcome them.
Thank you Maddie 11 C
 Many thanks to all of the students who contributed to the assemblies, I did have to take out all of the names as there were so many! 
 Well done everyone!
This week was also the culmination of the Hardboiled History Competition. The winners were Eloise  (7T) – Emmeline Pankhurst, Alicia (8G) – Bessie Coleman and Mollie (9S) – Coco Chanel, a great effort from everyone – they are all 'eggstremely' good!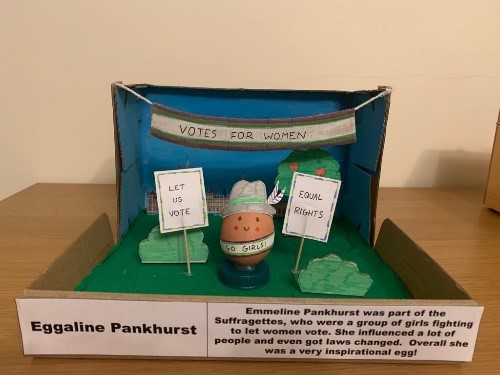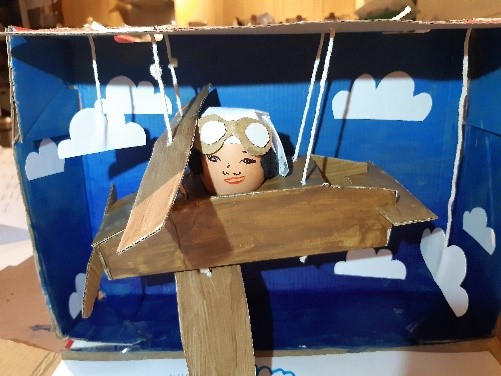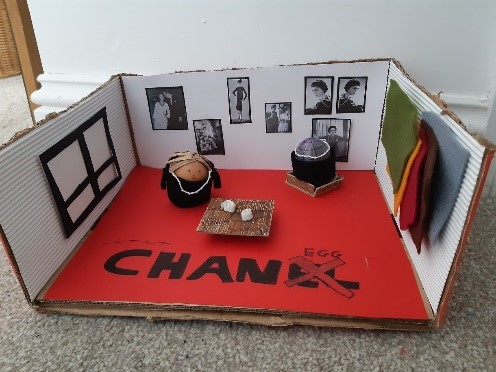 Tomorrow we will all be able to watch and listen to the end of term assembly led by the Student Leadership Team when they share with us their thoughts on new beginnings, as we reach the end of the spring term and start looking ahead to the summer.
I wish you all a very Happy Easter break, we start back at 8.40 on April 19th 2021.
Best wishes
Yvonne Smith
Assistant Headteacher