Dear Parents, Guardians and Friends
I hope your half term turned out well and that you were able to find some time to enjoy the beautiful autumnal colours. The trees in Joel Park are at their best right now and the girls in detention yesterday gasped as they looked out onto Joel Park where the late evening sun literally illuminated the colours on the trees….and of course some took pictures for their art!
There is a lot to report from the week before half term.
Our Year 13 biologists are taught much of the ecology topic through attendance at a three-day residential field course at Dale Fort Field Studies Centre in Pembrokeshire. The photo was taken whilst the students were measuring the length of rough periwinkles on the rocky shore – comparing their lengths when the shore is exposed to wave action and when it is sheltered. Thank you to Mrs Whitehouse, Miss Izod and Miss Keeley for overseeing the trip.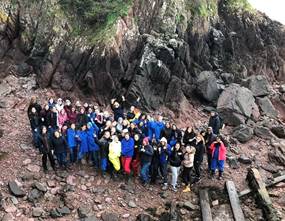 Mrs Pearce and I unveiled a lovely plaque, made by Megan Beavis and Arya Kurle, which was the final touch to the Year 9 Garden of Unity. During the summer term, the Year 8s contributed to the rejuvenation the school garden as part of their green project. Every student during their art lessons studied the Mandala pebble design and used these patterns to produce a design themselves. Students used pins, cotton buds and thin brushes to produce the design on pebbles in their House colours. A group of volunteer students spent their lunch times creating the Garden of Unity. The garden represents the unity in each of the forms and Houses and together unite as a year group and members of The Holt community. Thank you to Miss Shephard for her enthusiasm in seeing the project through and to the art department for the time they gave to decorating the pebbles.
Mrs Pearce and I loved the Year 7 music concert on the Thursday before half term…..we were proud of our Year 7 for sure! They looked amazing, embraced the need to sit still during the instrumental soloists and all eyes were on Mrs Carter, the conductor when they were singing! I think their families must have been proud too as the mass choir of 180 girls sang Disney songs including Touch the Sky, How Far I'll Go and the catchy Hakuna Matata. Alongside the choir there were 17 soloists playing the piano, clarinet, flute and guitar. This performance is a central part of the Year 7 music curriculum where they focus on developing musicianship through singing. The songs were a result of the hard work in music lessons last half term. Thank you also to the accompanying band and a big thank you to Mr Gray and Mrs Carter who make up our music department, for taking the time and effort in organising such an inspiring evening.
Mrs Martin, our SENCO and Mrs Williams, Head of Technology have been associate members of the senior leadership team since May half term. As part of their professional development they were given a whole school project…we asked them to organise a careers fair for all year groups to attend. Well ……they did it! The careers fair was a huge success and seemed so daunting back in May. We were fortunate to recruit Mrs Hart, our careers manager in the summer term and she was a welcome addtion to the team. As easy as it sounds and from what we hear in the news that companies want to reach out to young people ….this wasn't quite reality.. getting organisations to commit to the careers fair was really tricky – there are so many pressing issues in all workplaces and there are trade offs in taking a whole day out. However, we are hugly indebited to the 35 organsiations that attended and all our guests really made an effort to engage with and inspire our students. Our visitors were also very complimentary of our students, commenting on their enthusiam, preparedness and their excellent questioning skills! For many girls this event was also a great way for them to try out the ultimate networking skill of engaging in a conversation with a stranger…and they were really good at it – especially when they were lured by the sweets and pens as rewards!
| | |
| --- | --- |
| | The team that masterminded the careers event – thank you to Mrs Martin, Mrs Williams and Mrs Hart! |
First day back from half term and Year 7 were having more fun! This time not on stage but at Ufton Court on a team building experience. Miss Herron, Head of Year 7 said the girls showed great team spirit
It is non uniform day on Friday, where we ask students to bring in an item for The Friends of The Holt Christmas Fayre tombola in return for wearing their own clothes. In addition, The Friends of The Holt are also encouraging us to do our online Christmas shopping through easyfundraising, you'll be helping to raise donations for the school www.easyfundraising.org.uk/invite/273AAI/QNZL43. Following the Chancellor's budget on Monday, we are still running on a very tight budget. The money raised from the Christmas Fayre last year was used to buy visualizers, which have enabled teachers to show student's work as well as demonstrate worked examples or practical work in an instance to the whole class.
Tonight Mrs Vaughan and Mrs Priddy look forward to welcoming Year 10 and Year 11 parents to the Sixth Form centre for a KS4 study skills information evening. It starts at 7.00pm and should finish by 8.15pm.
Best Wishes
Anne Kennedy