Dear Parents, Guardians and Friends
Just one more week to go until the summer holidays. It certainly feels like the end of term – which is a good sign! Your sons and daughters have done so well during school closure – they have shown incredible endurance and of course we know that there is a lot of parent support behind this – so thanks to you too! Everyone deserves a rest over the summer.
Update
Friday 17th July – last day of term – half day.
We will not set any lessons but we are going to hold a live TEAMS whole school assembly in the morning, which as always is organised by the student leadership team. They are going to pay tribute to Mr Furlong as well as wish everyone a good summer. A TEAMS link will be sent to your son/daughter nearer the time. We will not be providing key worker provision on this day.
KS3 Reviews – these will be published through SIMS on Wednesday 15th July
Year 12 reviews and UCAS grades will be published on Sims on Thursday 10th July.
Textbook return and emptying lockers – thank you to all students who have returned textbooks and emptied their lockers. Year 8 and 9 are due in for the rest of this week and next week as follows
Wednesday 8th July
8B
8C
8G
8H
9.15
11.00
12.45
2PM
Thursday 9th July
8L
8S
8T
8W
9.15
11.00
12.45
2PM
Friday 10th July
9C
9G
9H
9L
9.15
11.00
12.45
2PM
Monday 13th July
9S
9T
9W
9.15
11.00
12.45
We will send out information on the following next week

Year 11 and 13 exam results day arrangements\
Year 11 enrolment into the sixth form
Year 12 Induction day – this will be in school on Thursday 3rd September

Year 12 should be working on their university personal statements. 73 sixth formers attended at least one session on TEAMS in between their face-to-face and live lessons on Monday. We had speakers from Surrey, Reading, Plymouth and Oxford Brookes Universities. Thank you to Mrs Hart for organising this virtual personal statement day – it was a great success!!
Year 6 parents attended a Live TEAMS Parents' Information Evening last week. We were pleased to see that 193 parents had signed in….even though all the leadership team could see was the webcam in an empty school hall!
House Events
The Holt Great Bake Off competition was a brilliant success. Students made fantastic cakes, some demonstrating very high levels of baking.
Year 7
Year 8
Year 9
1st : Amber 7S
2nd: Autumn 7H
3rd : Anya 7T
1st : Molly 8S
2nd: Summer 8B
3rd :Georgia 8C
1st : Emma 9L
2nd : Freya 9W
3rd : Jay 9W
Year 10
Year 11
Year 12
1st : Sham 10L
2nd: Keshini 10S
3rd : Saba 10W
1st : Sham 10L
2nd: Keshini 10S
3rd : Saba 10W
1st : Sham 10L
2nd: Keshini 10S
3rd : Saba 10W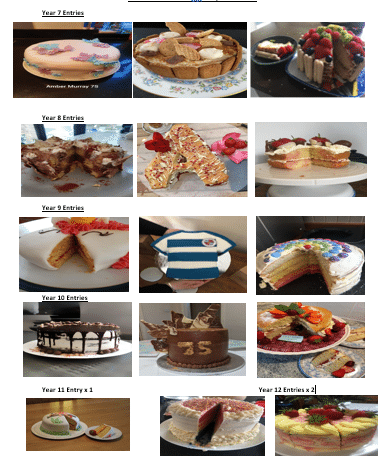 and some teachers entered too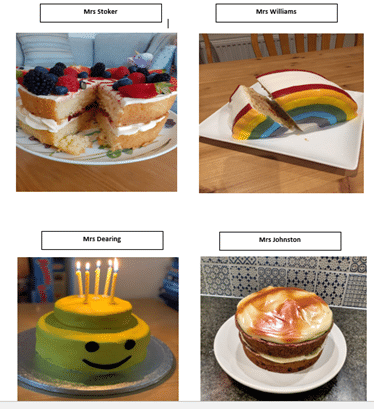 Thank you to Mrs Nyazika for orgnaising the competition and well done to everyone who took part!
The Year 7 House Maths competition ran a couple of weeks ago. The maths department had to change things quite a bit for lockdown, but their very first "Maths Art Challenge" has been a great success.  There were lots of entries from each form group and the quality and variety of the entries was amazing. The Year 7s clearly put a lot of thought and effort into their creations and hopefully had fun doing it too.
The results were done Eurovision style with each teacher giving all form groups a number of points from 8 points to 1 point depending on how best they met the judging criteria: Number of entries, effort, creativity, artistic quality, mathematical content. The judges were Art department – Miss Schotting and Maths department – Mr Green, Mrs Lamey, Mrs Connor, Miss Pyle, Mrs Tearle, Mrs Weaver, Mr Robinson, Mrs Willoughby.
| | | |
| --- | --- | --- |
| Rank | Points | Form Group |
| 1st | 66 | 7G |
| 2nd | 62 | 7C |
| 3rd | 51 | 7S |
| 4th | 44 | 7H |
| 5th | 37 | 7L |
| 6th | 31 | 7B |
| 7th | 23 | 7W |
| 8th | 11 | 7T |
Here are some of our favourites from each form highlighting the variety of entries.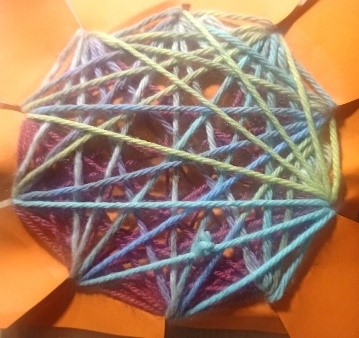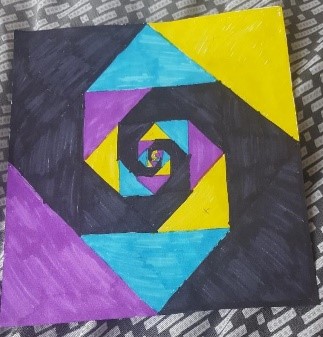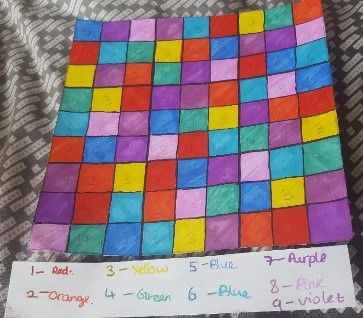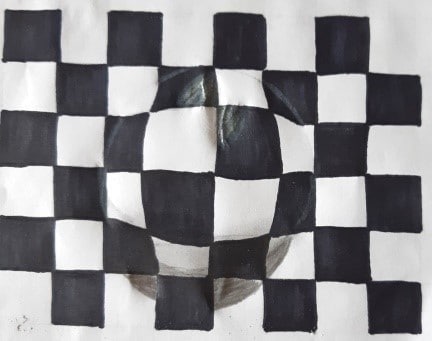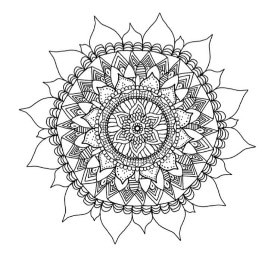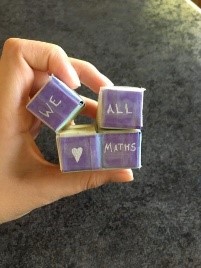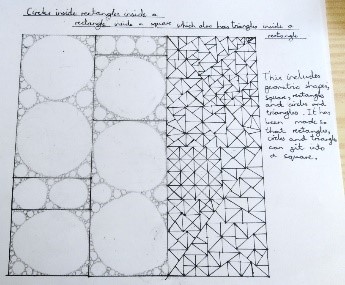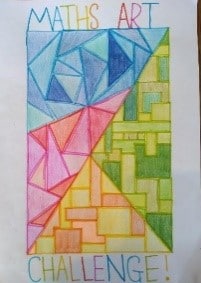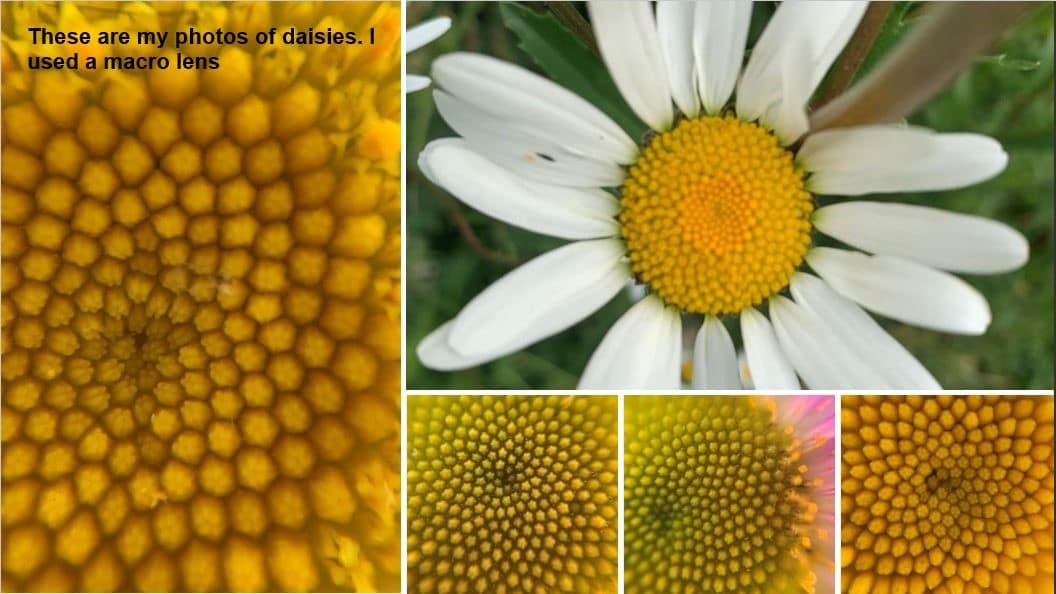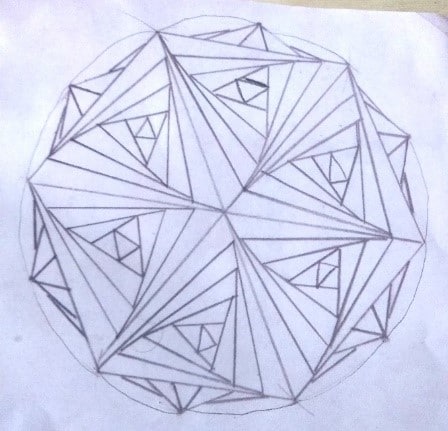 A big thank you to Mr Green for organising the event – maybe we have a future Leonardo da Vinci in the making!
The UK Mathematics Trust's Junior Maths Challenge is a national competition for Year 7 and Year 8 students that challenges them to apply their knowledge and problem solving skills to maths questions that will not be found in the regular maths classroom. It usually takes the form of a paper-based multiple-choice test and is run in April. Obviously, this year that could not happen due to lockdown, but the UKMT managed to set up an online version of the test. We have had over 100 students in Year 7 and Year 8 take part (with hopefully the remaining few finishing it off before the deadline today). Next week we should receive the results and, although there will be no progression to the Kangaroo or Olympiad events this year, students should hopefully still receive Gold, Silver, & Bronze certificates depending on how well they have done.
Thanks to Miss Pyle who has been working hard in setting it up, organising all of the students remotely (including sorting out all of their login details and technical support) and keeping on top of who has been participating. She has done a fantastic job!
I have saved the best news for last…..we are allowed to open the whole school in September – yay!! Mrs Pearce and I are planning with our leadership team the detail to ensure we adhere to the government guidance and we will send you a letter on Tuesday or Wednesday outlining our plans. We can confirm that your sons/daughter will be in all day every day…..unless we are told to close due to a spike in the local infection rate. Fingers crossed that does not happen. The best thing we can do to prevent this is to wash our hands frequently with soap for 20 seconds.
Best wishes
Anne Kennedy
Co-Headteacher