Dear Parents, Guardians and Friends,
The unseasonable weather is uplifting along with the lighter mornings and evenings – fingers crossed there is no Beast from the East waiting in the wings!
I hope those of you who had a half term break enjoyed the time with your children – I had a lovely time in Dublin with my dad and his sister – both in their late 80s. My dad, Henry, left Dublin for Manchester in 1956 but his sister stayed in Dublin – they had four other siblings but they are all dead – three died before they were 20 years old and Maurice had a stroke 23 years ago. Unusually for an Irish family I don't have any cousins, as it was just my dad who married! As a result, Iseult, his sister and my auntie is very much on her own in Dublin. Henry and Iseult have always got cross with each other on the phone…they are not very good at listening. I was a bit worried about the trip but it all turned out brilliantly, even our rented ford fiesta was upgraded to an Audi A4 for an extra €4 a day…….! We had a lovely ride through Dublin City at rush hour; I felt the buzz whilst listening to my Dad telling stories of his childhood and young adulthood. We drove down the road where he used to live (the house was knocked down to make way for a tennis club) and he showed me where his first girlfriend lived! Over the next two days, we did a road trip through the Dublin Mountains and along the coast – my Dad took me to 'Forty Foot', where he used to dive off the rocks with his mates and then smoke Woodbine at the age of 12 years! Now though, there are Health and Safety notices on many of the rocks saying don't dive. I am not sure I would let my children dive off them but that is probably the big difference in the generations, parents are more vigilant now! It was good to spend time with Henry and Iseult; as they have got older, they have become more chilled, accepting and reflective of situations. They are definitely stoic in dealing with old age – embracing it, grateful to be able to be out and about and for their freedoms when younger (no health and safety notices on rocks!).
Closer to home, our local elderly are well served by Wade (Wokingham District and Elderly) and four of our Year 9 and 10 students kindly gave up their Friday evening to waitress for a special event celebrating the 50th anniversary of serving meals to the elderly in Wokingham. They enjoyed engaging with the dignitaries whilst serving canapés and honed in on their waitressing skills. Thank You!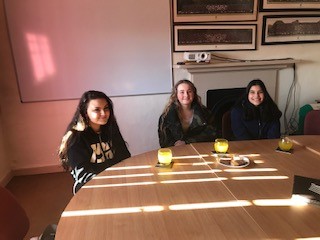 The Holt Association, made up of ex Holt girls from the ages of late 20s right up to women in their 90s are meeting for lunch in the school hall on March 16th, any past pupils are welcome and if you want to attend please go to The Holt Association on the school website. Some of the members of The Holt Association support the school by selling second-hand uniform at various parents' evenings where all proceeds go to the school. However, there is currently a shortage of jumpers! – so please do drop off any discarded and out-grown Holt School jumpers you may still have (without extra holes at the bottom of the sleeves) in reception. Thanks.
The Year 12 biologists were out on a trip to Marwell Zoo yesterday; they sat in a lecture theatre for three hours and then spent time walking round the zoo. Thanks to Mrs Whitehouse for organising the trip.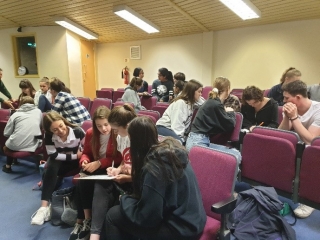 Today lots of teachers and a few parents were invited to try out Year 11 cooking as part of their Food and Nutrition GCSE. The corridors of the Tech block resembled a bistro with about 30 guests seated to try out the various menus and to give feedback. I just wished I had paid more attention to the MasterChef judges to learn how to review food. Good luck and thank you to all the Year 11 girls – the tasting goes on until Friday. Mrs Van Wyngaardtt also deserves a thanks for overseeing the 60+ girls cooking their practical pieces and well done to all Year 11 for not setting off the fire alarm so far!!!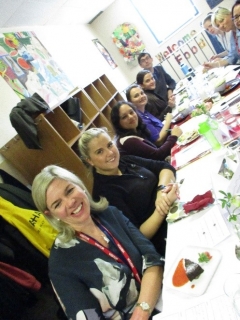 Mrs Hart, our careers lead, is coordinating National Careers' week next week and to embrace this she has organised lunchtime seminars for all years and for inspirational role models to speak in assemblies. The timetable is on daily briefing on Frog and some information has been sent home for you to peruse, so please do have a look and maybe encourage your daughter to attend some sessions!
Finally good luck to our Year 13 students who are taking PPEs this week and to Year 11 for their English and maths 'waves' next week….then just eight school weeks until the actual exams…it is the home straight now.
Enjoy the rest of the week
Anne Kennedy
Co-Headteacher