Dear Parents, Guardians and Friends
As an avid reader, it is sometimes difficult to decide which book to read next, The Holt Staff Reading Challenge is helping with this – the book I am currently reading I chose because it has one word title!  It is Labyrinth by Kate Mosse, something I would not have usually selected but a great story cleverly combining the history of Languedoc, France, with the present day as well as a mysterious quest.  I am looking forward to discovering new books when I search for a debut novel, or a book recommended by a student!
Last Thursday was World Book Day and to celebrate this Ms Mirza led a week of assemblies on Reading for pleasure, which is one part of The Holt six-part reading strategy. The whole assembly was aimed at encouraging reading for pleasure – students and staff talked about their favourite books ( the staff by video which was fun!). Ms Mirza's favourite books are The Kite Runner by Khaled Hosseini and Pride and Prejudice by Jane Austen.
Students were reminded about the recommended reading list in the assembly and Mrs Heard's Thought for The Week.   There is a vast selection, all of which are available in the school LRC.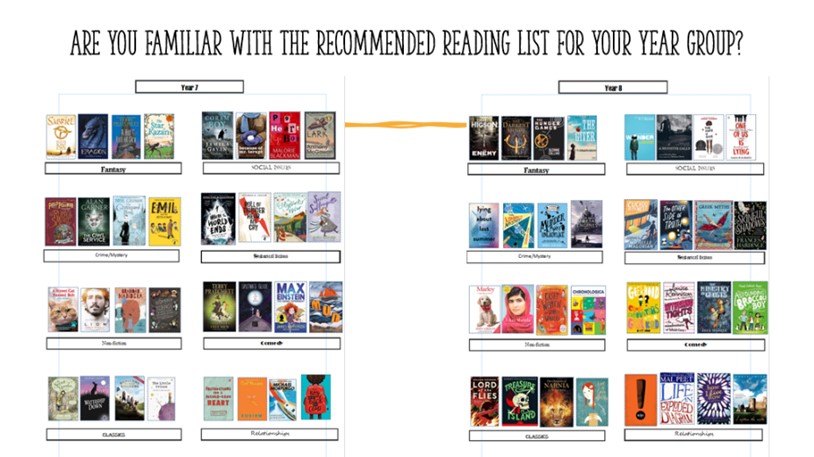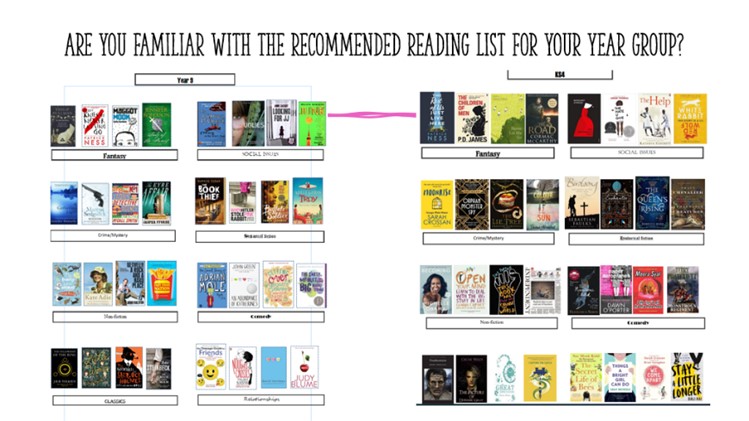 The Learning Resource Centre is extremely well used. Mrs Heard our school librarian says that 'The Learning Resource Centre is a colourful and vibrant part of the school which is very popular with the students at break and lunch times.  It is regularly at capacity during lunchtimes with students reading and completing school tasks on the computers.  The soft seating area has helped to promote reading for pleasure and students can often be found relaxing on the sofas with their books.  Borrowing is at all-time high, and popular books have a waiting list on the reservation system, which demonstrates how the message of reading for pleasure is spreading throughout the school.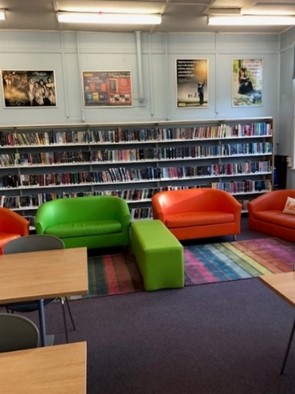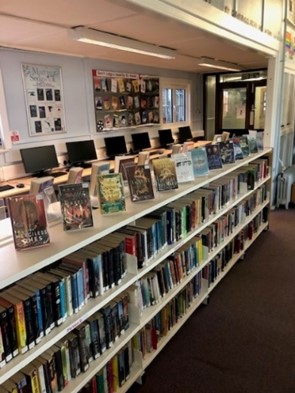 Mrs Heard has recently set up a new 'mini library' in the sixth form centre with more senior fiction and several brand-new titles to give Years 12/13 easier access to popular fiction.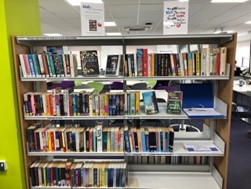 New books are purchased regularly to keep up with trends promoted on social media and are always displayed prominently in the LRC.  Recommended reading lists are compiled for each year group which are promoted and displayed, along with classics and other special collections.  The annual Reading Challenge creates a buzz and is coming to an end at Easter when three winners will be drawn for this year.'
It is great to hear that so many students are reading books for pleasure.
Mrs Heard adds that one of her favourite books is 'The Salt Path' by Raynor Winn,   hugely inspirational and a test of human endurance in the face of adversity. I think that is definitely one for my list!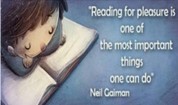 We are also looking forward to our next drama performance which is The 39 Steps, based on a book by John Buchan. Miss Edwards has sent this important notice – 
It is the final countdown to this year's whole school production of The 39 Steps, students have been working extremely hard on our first whole school play production.
The 39 Steps tells the story of Richard Hannay, a man who has a very comfortable and boring life in London, until one day he meets a mysterious woman called Annabella Schmitt. From that moment on, his life changes as he is framed for murder. We follow Hannay on this whirlwind adventure to clear his name.
The production has been a collaborative effort of the drama, design and technology, English, and the art department who have been working with a cast and crew of over 100 students from Year 7 to Year 12 since the beginning of September 2022.
This very special occasion will showcase our students' talents in drama, set, costume lighting and sound design.
Show dates:
Tuesday 14th March 7pm
Wednesday 15th March 7pm
Thursday 16th March 7pm
Doors open at 18:30pm and the performance and will begin promptly at 19:00pm, the show is approximately 2 hours long and the performance will be finished around 21:20pm. Tickets can be purchased: www.ticketsource.co.uk/the-holt-school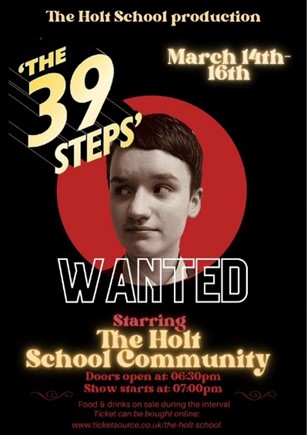 Year 11 are currently taking their final set of PPE exams before the summer, and many have been extra busy recently finishing their technology NEA projects.   These are on display for staff and students this week, as well as to parents and friends on Thursday afternoon. This is to give them all important feedback they need to complete their evaluation.   There are some amazing pieces, well done to everyone!
Yvonne Smith
Assistant Headteacher