Dear Parents/Guardians and Friends
It is so lovely to at last have some warm and sunny weather. It definitely makes us all feel summery as we look forward to some of the fantastic events that are happening this half term. One of the most anticipated of these is The Holt 'Sportsfest' which was launched to students this week.
The theme this year is the EUFA Women's Euros 2022 and each House will represent a Euro team. Field events will run from 5th to 6th July and The Holt 'Sportsfest' day itself is on 8th July 2022. In addition, every year group will have the opportunity to participate in the annual Holt School Colour Run – always great fun!
As well as working hard to organise this and other events this term, The PE department are in a celebratory mood as Miss Cardy explains below –
On the 17th May 2022 the Inter Girls Athletics Team performed brilliantly in their track and field events and came 2nd in the first round of the English Schools Track and Field Cup. This meant that they were through to represent the County at the Southwest Regional finals in Exeter. We travelled down to Exeter early on Tuesday 7th June and the girls were very excited.
The girls all performed very well in their events and became Southwest Regional Finals CHAMPIONS!!
The girls had success in all of their events. Jemima started the day off with a personal best in her hammer throw, throwing 31.53m. We also had some excellent performances in the field events. Tomi threw 9.96m in shot put, Tami threw 14.12m in discus, Lily jumped 1.47m in high jump, Maddie umped 4.15m in long jump and Chloe jumped 8.15m in her triple jump.
We also had some standout performances in the track events Lottie sprinted the 100m in 13.5 seconds, Daisy sprinted 200m in 29.2 seconds and Khadijah sprinted her 300m in 46.7 seconds.
The girls were so happy that they won the regional finals and we had lots of singing on the way home.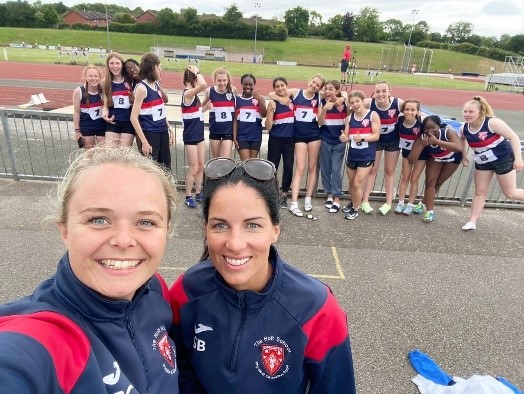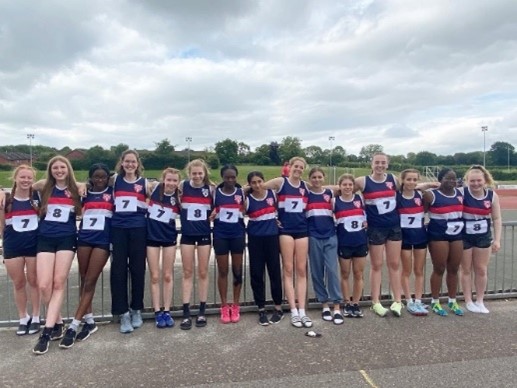 We have also had success over the weekend at Berkshire Schools. The girls who qualified during the first round went through to represent Wokingham at Berkshire Schools. We had some great performances in both track and field events. Daisy got a PB of 19.74m in javelin, Jemima threw a PB in shot put of 10.89m and Amelia came 3rd in her 800m race. Well done girls!
What an amazing achievement! Well done to the students and to the PE staff who were involved every step of the way.
I am certain future blogs this term will keep you up to date with all the summer events as they occur, starting with Activities week next week, a new venture for us and something we are all looking forward to!
Yvonne Smith
Assistant Headteacher