Dear Parents, Guardians and Friends
In this week's blog, I will give you a quick round up of what's been happening as we approach the half term break and then give you some reminders about what lies beyond.
It is always busy at The Holt but, as GCSE and A level examinations are now well underway, the focus is largely on ensuring this runs smoothly rather than on the more noteworthy or exciting events that brightly stud our calendar at other times of the year. We certainly wish the candidates all the best for their ongoing endeavours, and we are grateful to the parents and staff who continue to support them.
In other news, 7G did stage a sponsored run charity event on the field on Friday lunchtime. I don't yet have the full details of how much was raised, but I did bump into a slightly out-of-breath Mr Beere afterwards, and he was very please with how it had gone. Well done to the girls who organised it.
Speaking of fundraising – and you may have missed your chance by the time you read this – after school today, The Friends of The Holt are holding their first Krispy Kreme doughnut sale. This is being held to raise money that goes back to the school to help pay for projects that we are unable to cover from our normal budget. Thanks to Rachel Widdicombe and her team for organising this.
Our PE department, as ever, are taking our students here, there and everywhere. Girls in Years 8-10 have been leading a primary school sports week in Woodley over the past couple of days – what a great experience for them and a wonderful way to represent the school. Our track and field stars have also been competing in various events. Highlights from these include a brilliant showing from our Inter and Junior teams in the English Schools Athletics Championships last Thursday, our U16 team being crowned Reading & District League champions, and Amelia becoming the U17 county champion at 200m and 300m. Great work, everyone!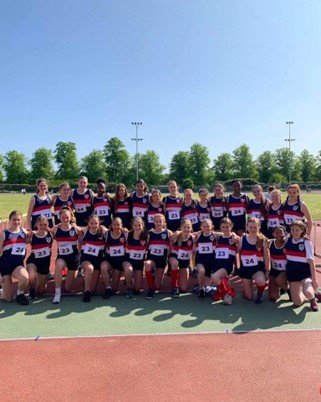 So, to some reminders about what's coming up next half term:
KS3 assessment fortnight runs from 6th-16th Students should have received their assessment timetables and are hopefully revising at home in preparation. This is good experience for them, but they should also have plenty of down time in their week off so that they come back refreshed.
Year 10 will be heading out on work experience in the week beginning 19th This is a really important opportunity for them to experience getting up, going to work, and mixing with new people. Post-covid, it has proved more difficult to find placements for everyone. If you or your employer could offer a placement this year or next year, do get in touch with Sharon Hart – s.hart@holt.wokingham.sch.uk
At the same time (19th-23rd June), Years 7-9 will be participating in our annual Activities Week. This includes a Year 8 PGL residential, day trips to planetariums, theme parks, zoos and much more going on in and around school. Personal timetables for all students will come out following the half term break so that everyone is clear what they are doing each day.
There is much more to talk about, but I won't steal the thunder from my colleagues' upcoming blog posts.
Our Head of English, Rebecca McClelland, was one of several staff who presented to our governing body last night regarding different strategies we use to support and improve the quality of education at The Holt. She spoke about our reading strategy which we have previously shared with parents and students. It was wonderful to have this work highlighted by Ofsted in our recent inspection report. They said, "Leaders prioritise reading. Pupils often read extensively in class. Staff encourage them to read widely. Very few pupils struggle with reading. Those who do receive expert support. This helps them to catch up quickly. Aspirational texts inspire pupils in English."
One thing we have promoted this year is our staff reading challenge. This is helping us to demonstrate to students that reading is for life – not just for school. It's not too late for you to join in and discuss your book choices with family and friends.
To end this blog, I would like to honour our Year 11s who are sitting their English Literature GCSE today with something light-hearted (ish) from Brian Bilston.
Best wishes for the Whitsun bank holiday weekend and beyond.
Ben Adams
May 2023