Dear Parents, Guardians and Friends,
I recently observed a Philosophy of Religion lesson where Year 9 students were reflecting on their new year's resolutions.  Some students shared personal goals, others discussed family challenges e.g. 'Veganuary' whilst others had opted not to set a resolution at all.  What stood out from the discussion was the amazing self-awareness displayed by our students.  Throughout the activity they reflected on their personal strengths and areas for growth.  Equally they were conscious of how their actions are perceived by others and the importance of supporting their family and friends.
As we head towards the end of January, many of us are a little fed up with the dark nights and frozen mornings, so it is important to have something to look forward to!  In the true spirit of stoicism, the cold weather is out of our control but the ability to wrap up warm and participate in activities and events that make us feel good is certainly something that our students embrace.
The PE department shared some fantastic news this week…On Saturday 21st January Mrs White and Mrs Bolton took fifty girls to the Berkshire Schools Cross Country Championships at Newbury Showground. Well done to everyone who competed on Saturday in the cold weather. We had some fantastic performances by all and some excellent sprint finishes! We are very proud of you all. Special mention to Matilda Boyce who came second in her race. A huge well done to Rosie Kitching and Marnie Fieldsend who have been selected to represent Berkshire in the next round. Good luck girls!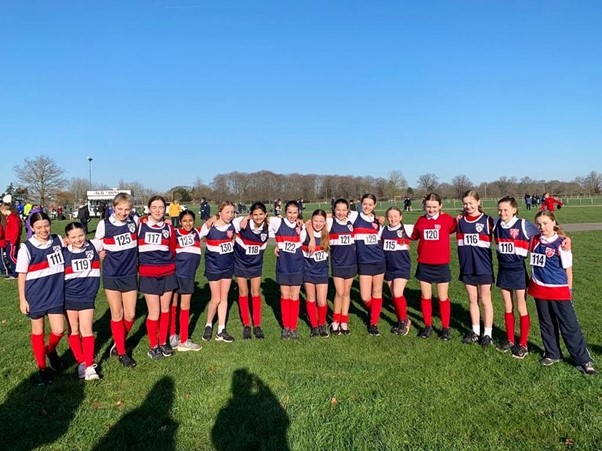 There was also some excellent news form the computing department.  You may remember that back in November all students in KS3 took part in the Bebras Computing Challenge in their computing lessons which introduced computational thinking to students. Each student answered questions that focused on computational and logical thinking with the aim of answering as many as they could correctly in forty minutes! As a result of this we had seventy-nine students who were invited to take part in another challenge called "The Oxford University Computing Challenge", as they had achieved a top 10% score in the UK Bebras Challenge. The OUCC is a separate challenge to the Bebras challenge and involves students developing their skills further to produce programmed solutions to computational thinking problems. Forty-nine of our students decided to take on round one of the OUCC which took place last week. There will be only twenty students per age group across the whole country who will be invited to the final round. We will find out how they have done at the end of the week! A big well done to all those who took on the challenge and gave it a go!
The Friends of The Holt School are delighted to be running an event for the adults in the school community, Quiz night will take place on Friday 3rd February.  If you would like to come along then please purchase tickets on Wisepay costing £10 per person.  The deadline for payment is 27th January.  This promises to be a fun evening with lots of opportunities to win prizes.  The Friends of The Holt are a great source of support for the school, the money raised at these events allows the school to purchase those 'extras' that school budgets don't always stretch to such as benches and drama lighting.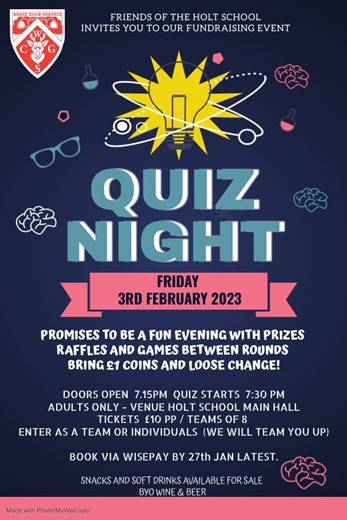 We are grateful to those that give up their time to make these events happen and also to the many local businesses that sponsor the event by donating generous prizes.  Thank you to the following companies for your generous donations:
BARBERS in Wokingham
Bel and Dragon Reading
Bombay Story
BXGFIT Wokingham
The Dog and Duck Wokingham
Exclusive Games
Hare Hatch Sheeplands
The Leafy Elephant
Mac's Hair & Beauty Barbers
Magic Cut Barbershop
Mimi Wokingham
Mumbai Wokingham
Nuffield Health Wokingham Fitness & Wellbeing Gym
Papa John's Pizza
Phil's Good Food
R Young Art Services
The Roseate Reading Hotel
TeamSport Go Karting
Tesco
The Foundry Bell
Topgolf Surrey
Waitrose
Wokingham Superbowl
Wokingham Theatre
Zizzi Wokingham
Finally, I wanted to share some information from a course I attended this week.  Many of our students are very aware of the amount of time they spend on screens and recognise the need to make a conscious effort to reduce this.
The following statistics were shared about media use for secondary age students (age 11 –15):
97% have their own mobile phone

98% use video sharing platforms

97% use messaging sites/ apps

76% play games online

37% have seen something worrying or nasty online

64% were able to spot a fake profile
Technology is an important part of our lives; it continually changes and evolves.  The Holt dedicates curriculum time from Year 7 through to Year 13 to educate young people to use the internet responsibly and recognise risk.  The training really reiterated the importance of having an open dialogue with young people to understand what they are viewing online but also the importance of encouraging them to have some time away from the screen.
The following links were shared during the training.  They provide some useful information that may help you to start these conversations:
Parents and Carers – UK Safer Internet Centre
Parents and carers – BIK Portal (betterinternetforkids.eu)
During Children's Mental Health Week, we will be challenging our students to step away from the screen; to connect with people; to learn a new skill or take up an extracurricular activity.
Mrs Martin
Assistant Headteacher